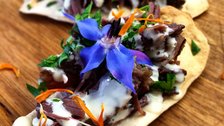 Native opens early February 2015.
Native
co-founders Imogen Davis and Chef-Patron Ivan Tisdall-Downes
met at university,
trained at River Cottage
and ran supper clubs
before launching this
Neals Yard restaurant. Specialising in game, wild food and rare breeds, the focus is on the great flavours you can find raiding Britain's wild larder
. Hugely passionate about nose to tail and stem to root eating, they are wild about game meat. But instead of a delicacy, game, rare-breed meats and wild food are given the
street food treatment making them
more accessible in both approach and price. L
unch and dinner menus change with the seasons and you'll find twists on familiar dishes. Just look at their signature pigeon kebab and Southern fried rabbit, served alongside foraged and vegetarian dishes. The drinks menu puts British wines centre stage and there are sparkling wines as well as regularly-changing seasonal cocktails to sup.