Alexandra Palace Conference Facilities Venue Hire
ADDRESS
TELEPHONE
Alexandra Palace Conference Facilities has 9 rooms available for private hire
Venue hire at Alexandra Palace Conference Facilities

Hire this venue for your own event - it has nine function rooms the largest of which can hold a maximum of 8250 guests and the smallest is ideal for 20.
After a shaky start - destroyed by fire 16 days after 'The People's Palace' first opened in 1873 -
Alexandra Palace
re-opened again two years later becoming the place from where the BBC beamed its first broadcast in 1935. The palace title maybe a little misleading - it's charm being more shabby chic than regal. Still, it's a great venue for the regular rock concerts, raves and exhibitions staged, with two massive indoor spaces. And, perched above the city, it boasts beautiful surroundings and wonderful views over London. From the first warm days of spring until the annual fireworks display in November, outside is the place to appreciate Ally Pally taking in the nearby boating lake, children's playground and parkland. A London institution.
Alexandra Palace Conference Facilities images
Alexandra Palace Conference Facilities  
Great Hall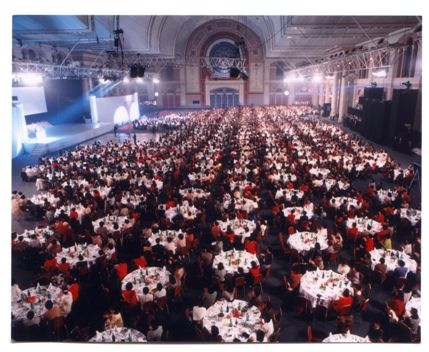 Capacity
Theatre
8250
Classroom
3000
Reception
7250
Dinner
5000
Dance
5000
Dimensions
Length
117.04m
Width
55.17m
Area
6558m˛
Height
26.82m
Panorama Room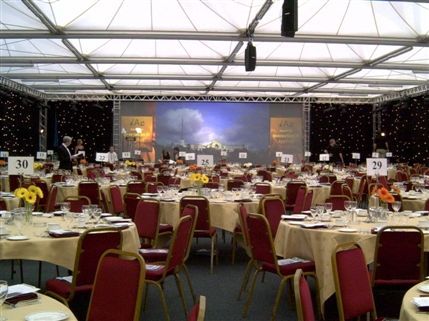 Capacity
Theatre
800
Classroom
270
Reception
1000
Dinner
700
Dance
650
Dimensions
Length
50m
Width
20m
Area
1000m˛
Height
4m
Palace Suite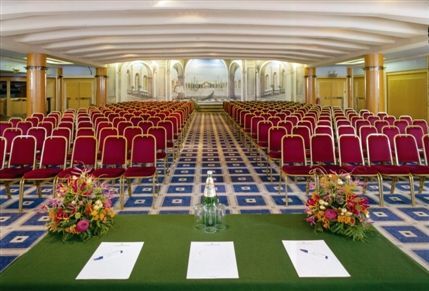 Capacity
Theatre
400
Dimensions
Length
25.33m
Width
19.48m
Area
493.43m˛
Height
3.66m
Londesborough Room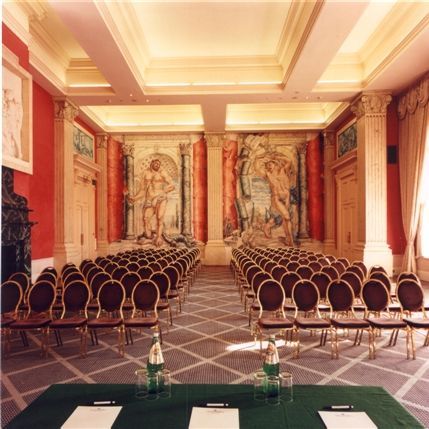 Capacity
Theatre
200
Reception
200
Dimensions
Length
18.14m
Width
12.22m
Area
216m˛
Height
7.32m
Palm Court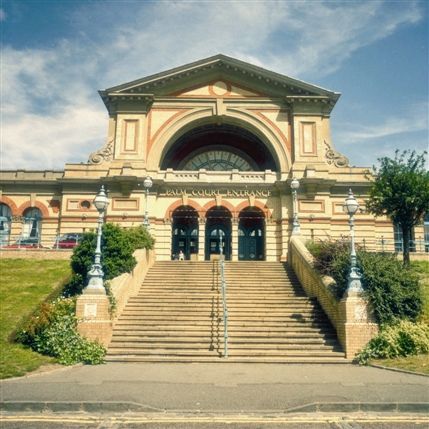 Capacity
Reception
2000
Dimensions
Length
29.87m
Width
17.98m
Area
537.06m˛
West Hall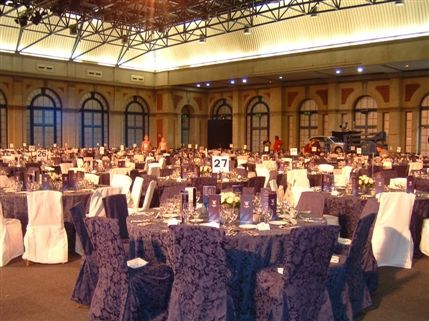 Capacity
Theatre
2000
Classroom
1200
Reception
2500
Dinner
2000
Dance
2000
Dimensions
Length
62.48m
Width
42.98m
Area
2740m˛
Height
10.36m
Palm Court Suite 2-3
Capacity
Theatre
30
Boardroom
25
Reception
40
Dinner
30
Dimensions
Length
9.45m
Width
4.88m
Area
46.12m˛
Height
2.4m
Palm Court Suite 4
Capacity
Theatre
25
Boardroom
20
Reception
30
Dinner
20
Dimensions
Length
7.01m
Width
5.18m
Area
36.31m˛
Height
2.4m
Palm Court Suite 5
Capacity
Theatre
50
Boardroom
30
Reception
75
Dinner
50
Dimensions
Length
10.06m
Width
8.23m
Area
82.79m˛
Height
3.6m
Hotels near Alexandra Palace Conference Facilities
Hotels near Alexandra Palace Conference Facilities
All central London hotels
Check-in
Check-out
Guests
1 ADULT
2 ADULTS
1 ADULT, 1 CHILD (2-12 Years)
2 ADULTS, 1 CHILD (2-12 Years)
2 ADULTS, 2 CHILDREN (2-12 Years)
3 ADULTS
4 ADULTS
OTHER CONFIGURATION:

+ another room

Alexandra Palace Conference Facilities events