Chelsea Football Club and Conference Centre Venue Hire
ADDRESS
Chelsea Football Club and Conference Centre, Stamford Bridge Ground Fulham Road,
Fulham
, London SW6 1HS 
TELEPHONE
0207 420 4986  
Chelsea Football Club and Conference Centre has 17 rooms available for private hire
Venue hire at Chelsea Football Club and Conference Centre

Hire this venue for your own event - it has 17 function rooms the largest of which can hold a maximum of 2000 guests and the smallest is ideal for 12.
What a difference a game makes... at the end of 1993, a couple of surprise results lifted the Blues out of mid-table and into the Champions League. Had they lost those matches, the debt-laden club would probably have sunk without trace. Instead, Russian billionaire Roman Abramovich bought them, paid off their debts and spent £200 million on new players. A club on the brink of disaster has turned into one of Europe's strongest. A trip to the stunning Chelsea FC and accompanying village is well worth it and, with some excellent venue hire rooms (including conference facilities that can accomodate up to 1418 people) it has become more than just a football club.
Chelsea Football Club and Conference Centre images
Chelsea Football Club and Conference Centre  
Drake Suite
Capacity
Theatre
350
Classroom
180
Cabaret
180
Reception
400
Dinner
330
Dance
300
Dimensions
Area
497m²
Zola Suite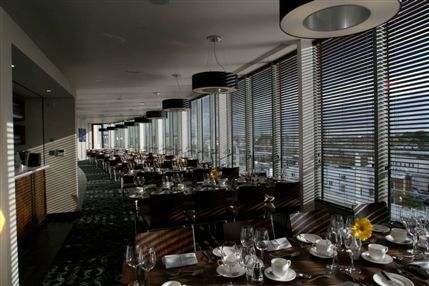 Capacity
Theatre
40
Boardroom
20
U-Shape
20
Reception
130
Dinner
72
Dance
56
Dimensions
Area
84m²
Millennium Suites (11 suites)
Capacity
Theatre
25
Classroom
12
Boardroom
24
U-Shape
18
Reception
35
Dinner
24
Dimensions
The Great Hall
Capacity
Theatre
950
Classroom
600
Cabaret
600
Reception
2000
Dinner
750
Dance
750
Dimensions
Area
1600m²
Exclusive Club (Upper)
Capacity
Theatre
80
Classroom
60
Cabaret
60
Reception
250
Dinner
120
Dance
100
Dimensions
Area
160m²
Harris Suite
Capacity
Theatre
350
Classroom
180
Cabaret
180
Reception
400
Dinner
330
Dance
300
Dimensions
Area
497m²
Executive Boxes (42 boxes)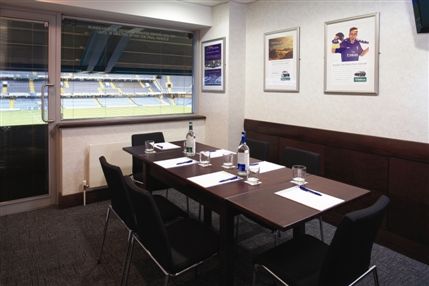 Capacity
Boardroom
16
U-Shape
16
Reception
32
Dinner
16
Dimensions
Area
22m²
Bonetti Suite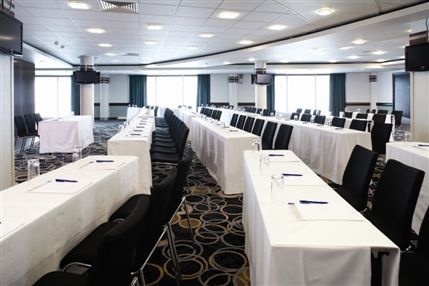 Capacity
Theatre
160
Classroom
100
Cabaret
100
Reception
250
Dinner
150
Dance
130
Dimensions
Area
300m²
Vialli Suite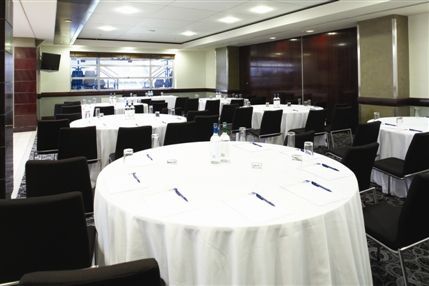 Capacity
Theatre
60
Classroom
35
Boardroom
30
Cabaret
42
U-Shape
26
Reception
80
Dinner
60
Dance
40
Dimensions
Area
100m²
Hollins Suite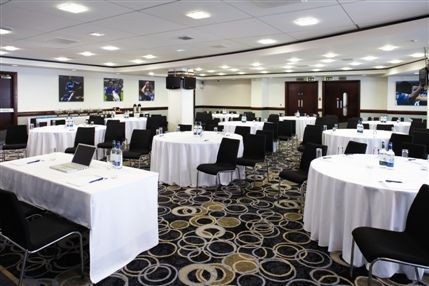 Capacity
Theatre
160
Classroom
100
Cabaret
100
Reception
250
Dinner
150
Dance
130
Dimensions
Area
300m²
Tambling Suite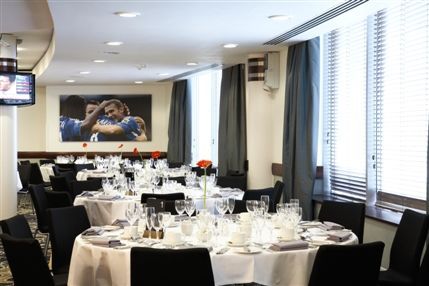 Capacity
Theatre
160
Classroom
100
Cabaret
100
Reception
250
Dinner
150
Dance
130
Dimensions
Area
300m²
Clarke Suite
Capacity
Theatre
160
Classroom
100
Cabaret
100
Reception
250
Dinner
150
Dance
130
Wise Suite
Capacity
Theatre
40
Boardroom
20
U-Shape
20
Reception
130
Dinner
72
Dance
56
Wise Suite
Capacity
Theatre
40
Boardroom
20
U-Shape
20
Reception
130
Dinner
72
Dance
56
Champions Club
Capacity
Theatre
200
Classroom
90
Cabaret
90
Reception
400
Dinner
160
Dance
150
Exclusive Club (Lower)
Capacity
Classroom
100
Reception
350
Dinner
170
Dance
155
Canaletto's
Capacity
Reception
160
Dinner
160
Dance
120
Location map of Chelsea Football Club and Conference Centre
What's On Today

Near Chelsea Football Club And Conference Centre

 

Trending Now