Express By Holiday Inn London City Venue Hire
ADDRESS
TELEPHONE
0207 420 4986  
Express By Holiday Inn London City has 12 rooms available for private hire
Venue hire at Express By Holiday Inn London City

Hire the Express By Holiday Inn London City for your own event.
The Express By Holiday Inn London City has 12 function rooms; the largest can hold a maximum of 70 guests, the smallest is ideal for 8.
The streets of Hoxton, where this hotel is located, are currently London's chic-est area, full of artists fashionistas, musicians and party people. The hotel is convenient for London's Square Mile, the financial heart of Europe, but above all this is a great place for the budget traveller seeking London's celebrated nightlife.
Express By Holiday Inn London City images
Express By Holiday Inn London City  
Old Street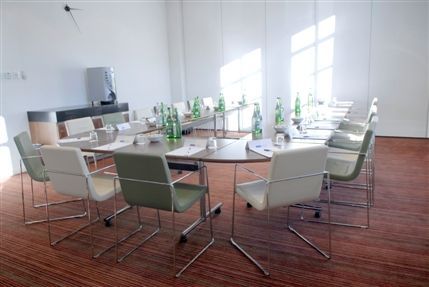 Capacity
Theatre
32
Classroom
16
Boardroom
16
U-Shape
16
Reception
40
Dimensions
Length
6.3m
Width
6m
Area
37.8mē
Height
3.1m
Old Street and Fenchurch Combined
Capacity
Theatre
70
Classroom
32
Boardroom
32
U-Shape
32
Reception
70
Dimensions
Length
12.5m
Width
6m
Area
75mē
Height
3.1m
Moorgate
Dimensions
Length
4m
Width
4m
Area
16mē
Height
3.1m
Fenchurch
Capacity
Theatre
30
Classroom
16
Boardroom
16
U-Shape
16
Reception
35
Dimensions
Length
6.2m
Width
6m
Area
37.2mē
Height
3.1m
Syndicate Room Eight
Dimensions
Length
4m
Width
4m
Area
16mē
Height
3.1m
Syndicate Room Five
Dimensions
Length
4m
Width
4m
Area
16mē
Height
3.0m
Syndicate Room Four
Dimensions
Length
4m
Width
4m
Area
16mē
Height
3.1m
Syndicate Room One
Dimensions
Length
4m
Width
4m
Area
16mē
Height
3.1m
Syndicate Room Seven
Dimensions
Length
4m
Width
4m
Area
16mē
Height
3.1m
Syndicate Room Six
Dimensions
Length
4m
Width
4m
Area
16mē
Height
3.1m
Syndicate Room Three
Dimensions
Length
4m
Width
4m
Area
16mē
Height
3.1m
Syndicate Room Two
Dimensions
Length
4m
Width
4m
Area
16mē
Height
3.1m
Location map of Express By Holiday Inn London City
What's On Today

Near Express By Holiday Inn London City