Friends House Venue Hire
ADDRESS
TELEPHONE
0207 420 4986  
Friends House has 20 rooms available for private hire
Venue hire at Friends House

Hire the Friends House for your own event.
The Friends House has 20 function rooms; the largest can hold a maximum of 1100 guests, the smallest is ideal for 4.
The historic headquarters of Quakers in Britain,
Friends House
in Euston has 23 function rooms including a large Meeting Hall which seats up to 1,100 guests. The venue boasts classic architecture, imposing stone columns and wood panelling, as well as state-of-the-art facilities. The Small Hall has a capacity of 230 while a further 20 smaller rooms can sit two to 120. Located opposite Euston Station, Friends House is conveniently situated in the heart of London and is a convenient venue for corporate conferences, meetings, training courses, lectures and interviews. In-house catering, a self-service restaurant and audio-visual equipment are also available, not to mention great day delegate package options suitable for all budgets. Quakers share a way of life built upon principles of truth, equality, peace and simplicity rather than a written set of beliefs.
Friends House images
Large Meeting House
Capacity
Other
1100
Dimensions
Area
441m²
Small Meeting house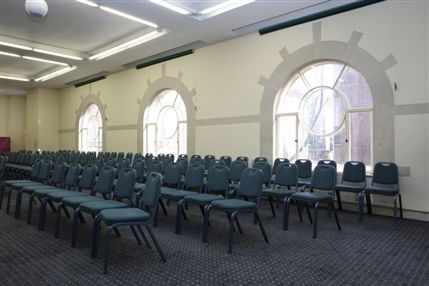 Capacity
Theatre
200
Cabaret
64
Dimensions
Length
20.5m
Width
9.0m
Area
184.5m²
Drayton Room
Capacity
Theatre
50
Boardroom
30
Dimensions
Length
9m
Width
7.9m
Area
71.1m²
Room 1
Capacity
Theatre
50
Boardroom
30
Room 1A
Dimensions
Length
4.9m
Width
2.2m
Area
10.78m²
Room 2
Capacity
Theatre
40
Boardroom
30
Dimensions
Length
11.6m
Width
4.9m
Area
56.84m²
Room 3
Capacity
Theatre
18
Boardroom
12
Dimensions
Length
5.7m
Width
4.9m
Area
27.93m²
Room 5
Dimensions
Length
5.8m
Width
5.7m
Area
33.06m²
Room 6
Dimensions
Length
5.7m
Width
4.9m
Area
27.93m²
Room 7
Capacity
Theatre
30
Boardroom
18
Dimensions
Length
7m
Width
5.1m
Area
35.7m²
Room 9
Capacity
Theatre
30
Boardroom
18
Dimensions
Length
7.0m
Width
5.1m
Room 7,8,9
Capacity
Theatre
100
Boardroom
48
Dimensions
Length
16.2m
Width
7.0m
Area
113.4m²
Room 10
Capacity
Theatre
30
Boardroom
18
Dimensions
Length
6.4m
Width
4.8m
Area
30.72m²
Room 11
Capacity
Theatre
30
Boardroom
12
Dimensions
Length
7.1m
Width
4.0m
Area
28.4m²
Rooms 10 & 11
Capacity
Theatre
60
Boardroom
30
Dimensions
Length
8.9m
Width
7.1m
Area
63.19m²
Room 12
Capacity
Theatre
30
Boardroom
18
Dimensions
Length
7.1m
Width
4.9m
Area
34.79m²
Room 19
Dimensions
Length
7.9m
Area
47m²
Room 18
Dimensions
Length
6.4m
Width
5.6m
Area
35.84m²
Room 17
Dimensions
Length
5.9m
Width
3.0m
Area
17.7m²
Euston Room
Capacity
Theatre
30
Boardroom
18
Dimensions
Length
7.2m
Width
5.6m
Area
40.32m²
Location map of Friends House
What's On Today

Near Friends House