Lord's Cricket Ground Venue Hire
ADDRESS
TELEPHONE
0207 420 4986  
Lord's Cricket Ground has 9 rooms available for private hire
Venue hire at Lord's Cricket Ground

Hire the Lord's Cricket Ground for your own event.
The Lord's Cricket Ground has nine function rooms; the largest can hold a maximum of 1000 guests, the smallest is ideal for 10.
This revered ancient cricket ground has been the site of many a historic victory and many more England batting collapses. While
Lord's Cricket Ground
has long been seen as the "home of cricket" and the game's spiritual headquarters, its importance does not lie merely in its historic past. It hosts many important matches, including a Test match for every international tour, and is the home of Middlesex County Cricket Club, the England and Wales Cricket Board (ECB) and the MCC Museum. There is also an excellent guided tour, which explores the history of the ground and the game. It is owned by Marylebone Cricket Club whose teams play about 500 games a year and who take their role as guardian of the laws and spirit of cricket very seriously. Lord's Test matches are amongst the most sought-after for tickets due to the prestige of the location - an Ashes (England v Australia) Test match at
Lord's
is thought to be just about the biggest game in cricket. The ground has a capacity of 28,000 and is a wonderful blend of the ancient and the modern, with the resplendent Victorian-era Pavilion facing the award-winning and stylishly futuristic Media Centre. During the London 2012 Olympics, Lord's played host to the
Olympic Archery
competitions.
Lord's Cricket Ground images
Thomas Lord Suite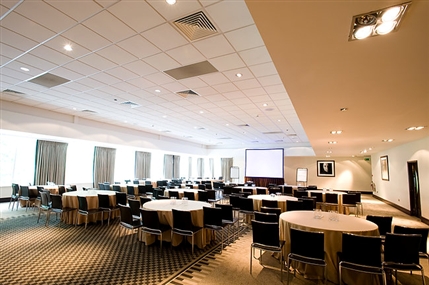 Capacity
Theatre
250
Classroom
130
Cabaret
160
Reception
500
Dinner
250
Dance
250
Dimensions
Length
21m
Width
14m
Area
294m²
Nursery Pavilion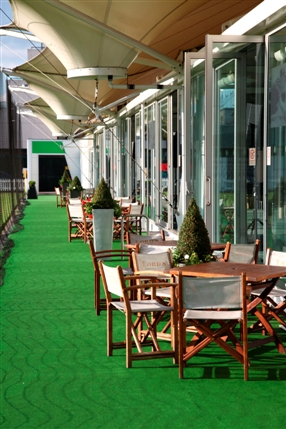 Capacity
Theatre
600
Classroom
350
Cabaret
400
Reception
1000
Dinner
600
Dimensions
Length
72m
Width
15m
Area
1080m²
Writing Room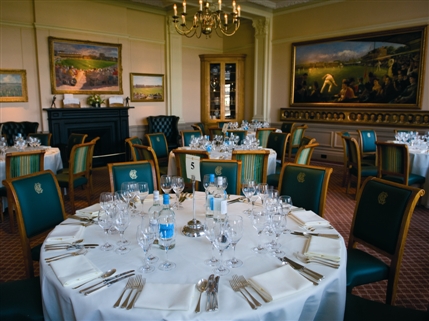 Capacity
Reception
70
Dinner
60
Dimensions
Length
9m
Width
8m
Area
72m²
JP Morgan Media Centre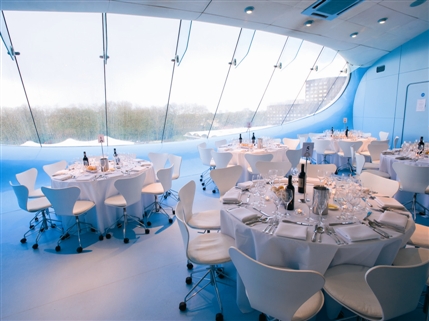 Capacity
Classroom
70
Boardroom
10
Reception
100
Dinner
50
Dimensions
Length
10.5m
Width
9.5m
Area
99.75m²
Long Room and Bar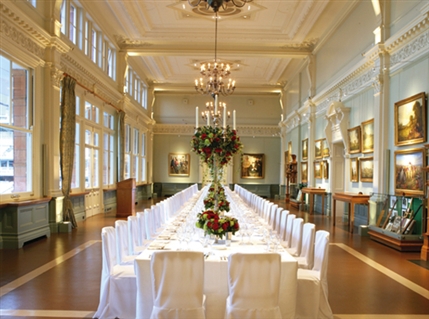 Capacity
Reception
300
Dinner
200
Dimensions
Length
28m
Width
8m
Area
224m²
Committee Dining Room
Dimensions
Length
9m
Width
6.7m
Area
60.3m²
Height
2.45m
Warner Room
Capacity
Theatre
100
Classroom
36
Boardroom
30
Cabaret
50
Reception
90
Dimensions
Length
17m
Width
8.3m
Area
141.1m²
Tavern Meeting Rooms
Capacity
Theatre
25
Boardroom
20
Other
20
Dimensions
Length
7.5m
Width
4.3m
Area
32.25m²
Museum and Film Theatre
Capacity
Theatre
55
Reception
250
Dimensions
Length
12m
Width
9m
Area
108m²
Location map of Lord's Cricket Ground