Madame Tussauds Venue Hire †
†
†
ADDRESS
†
†
TELEPHONE
†
†
Madame Tussauds has 5 rooms available for private hire
Venue hire at Madame Tussauds
†

Hire this venue for your own event - it has five function rooms the largest of which can hold a maximum of 1000 guests and the smallest is ideal for 60.
In 1835, Marie Tussaud - former sculptor to the court of Louis XVI - established a sideshow of waxworks of famous contemporary and historical figures (not to mention some gruesome relics of the French Revolution). Today, queues stretch hundreds of metres down Marylebone Road all summer long, as tourists and children rush to
Madame Tussauds
to rub shoulders with Kylie, Posh, Becks, and Brad Pitt. In addition to some astonishingly lifelike sculptures, there are also a number of interactive attractions: you can score a winning goal for England under the watchful eye of David Beckham, give a speech at the UN flanked by world leaders, or sing and dance on stage with Beyonce, Britney and Kylie. If that's not terrifying enough there's always the incredibly popular and gorgeously gory Chamber of Horrors . A visit is not complete without the Marvel 4D Experience. an exclusive 4D move where Marvel Super Heroes battle it out to save London.
†
†
Madame Tussauds images
†
Blush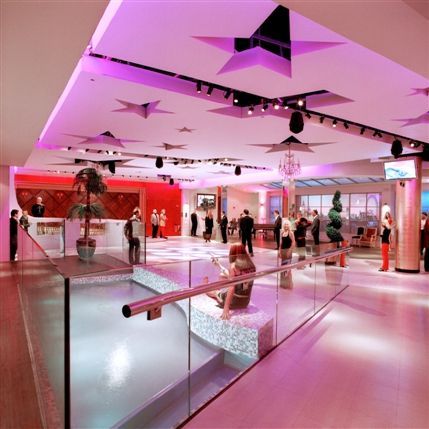 Capacity
Reception
250
†
†
Dimensions
†
†
World Stage
Capacity
Reception
550
†
Dinner
380
†
Dance
350
†
†
Dimensions
†
†
Blush, Premiere Night & Pirates of the Caribbean
Dimensions
†
†
Tussauds Stardome
Capacity
Theatre
300
†
Reception
300
†
Dinner
60
†
Dance
60
†
Dimensions
†
†
Whole Attraction
Capacity
Reception
1000
†
Dimensions
†
†
Location map of Madame Tussauds
Hotels near Madame Tussauds
FIND YOUR PERFECT LONDON HOTEL
Hotels near
Madame Tussauds
All central London hotels
Room 1
Okay
Maximum 4 to a room.
+ Add another room