Plaisterers' Hall Venue Hire
ADDRESS
TELEPHONE
0207 420 4986  
Plaisterers' Hall has 4 rooms available for private hire
Venue hire at Plaisterers' Hall

Hire the Plaisterers' Hall for your own event.
The Plaisterers' Hall has four function rooms; the largest can hold a maximum of 600 guests, the smallest is ideal for 10.
Located right in the heart of the city, Plaisterers' Hall is multi-purpose venue for conferences, road shows, presentations, parties and wedding receptions. All manner of events are held in the Hall and its central location makes it both easily accessible and close by to many London landmarks.
Plaisterers' Hall images
Great Hall
Capacity
Theatre
480
Reception
600
Dinner
400
Dance
250
Dimensions
Length
29m
Width
12.21m
Area
354.09mē
Livery Hall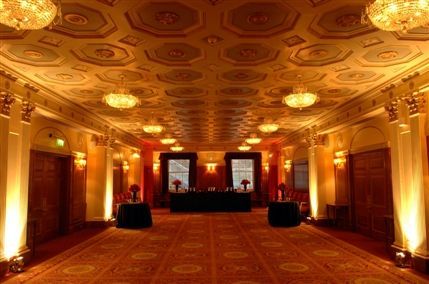 Capacity
Theatre
110
Reception
220
Dinner
150
Dimensions
Length
17.26m
Width
5.93m
Area
102.35mē
Humber Room
Dimensions
Length
9m
Width
5.4m
Area
48.6mē
Mott Room
Dimensions
Length
6.8m
Width
5.05m
Area
34.34mē
Location map of Plaisterers' Hall