Prospero House Venue Hire
ADDRESS
Prospero House
,
241 Borough High Street,
SE1 1GA
TELEPHONE
0207 420 4986  
Prospero House has 26 rooms available for private hire
Venue hire at Prospero House

Hire this venue for your own event - it has 26 function rooms the largest of which can hold a maximum of 300 guests and the smallest is ideal for 8.
Prospero House. Located on London's vibrant South Bank, Prospero House is a large training, meeting and conference venue. Just five minute from London Bridge, there are three floors of flexible event space and the conference capacity is 550.
Prospero House images
Discuss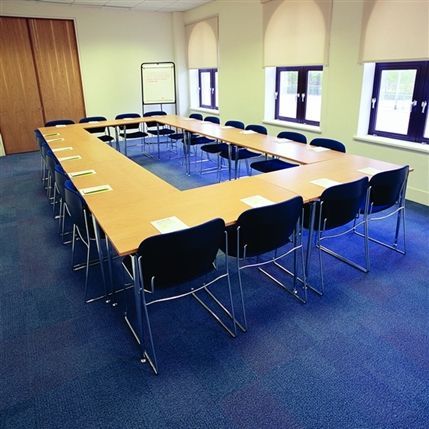 Capacity
Theatre
50
Classroom
30
Boardroom
32
Cabaret
24
U-Shape
26
Dimensions
Length
11.8m
Width
5.3m
Area
62.54mē
Smile 1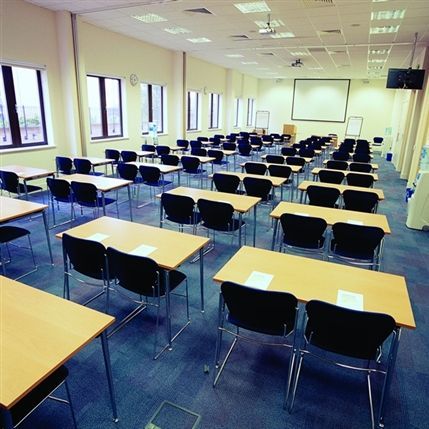 Capacity
Theatre
80
Classroom
36
Boardroom
32
Cabaret
42
U-Shape
24
Dimensions
Length
7.4m
Width
8.8m
Area
65.12mē
Smile 2
Capacity
Theatre
50
Classroom
24
Boardroom
24
Cabaret
24
U-Shape
20
Dimensions
Length
7.4m
Width
6.5m
Area
48.1mē
Smile 3
Capacity
Theatre
30
Classroom
16
Boardroom
14
Cabaret
12
U-Shape
12
Dimensions
Length
7.4m
Width
4.8m
Area
35.52mē
Smile 4
Capacity
Theatre
80
Classroom
36
Boardroom
32
Cabaret
42
U-Shape
24
Dimensions
Length
9.4m
Width
7.4m
Area
69.56mē
Think
Capacity
Theatre
15
Boardroom
8
Dimensions
Length
4.6m
Width
3.4m
Area
15.64mē
Smile Suite
Capacity
Theatre
300
Classroom
160
Boardroom
96
Cabaret
165
U-Shape
86
Dimensions
Length
30.4m
Width
7.4m
Area
224.96mē
Motivate
Capacity
Theatre
90
Classroom
50
Boardroom
40
Cabaret
48
U-Shape
30
Dimensions
Length
11.8m
Width
7.4m
Area
87.32mē
Imagine 1
Capacity
Theatre
90
Classroom
50
Boardroom
40
Cabaret
48
U-Shape
30
Dimensions
Length
11.9m
Width
7.4m
Area
88.06mē
Imagine 2
Capacity
Theatre
90
Classroom
50
Boardroom
40
Cabaret
48
U-Shape
30
Dimensions
Length
11.8m
Width
7.4m
Area
87.32mē
Rise
Capacity
Theatre
50
Classroom
34
Boardroom
36
Cabaret
18
U-Shape
32
Dimensions
Length
14m
Width
4.5m
Area
63mē
Express
Capacity
Theatre
20
Boardroom
10
Dimensions
Length
4.5m
Width
3.6m
Area
16.2mē
Reflect
Capacity
Theatre
20
Boardroom
10
Dimensions
Length
4.5m
Width
3.6m
Area
16.2mē
Advance
Capacity
Theatre
20
Boardroom
10
Dimensions
Length
4.5m
Width
3.6m
Area
16.2mē
Create
Capacity
Theatre
20
Boardroom
10
Dimensions
Length
4.5m
Width
3.6m
Area
16.2mē
Imagine Suite
Capacity
Theatre
175
Classroom
120
Boardroom
84
Cabaret
100
U-Shape
68
Dimensions
Length
24m
Width
7m
Area
168mē
Visualise 1
Capacity
Theatre
52
Classroom
36
Boardroom
24
Cabaret
24
U-Shape
18
Dimensions
Length
6.9m
Width
7m
Area
48.3mē
Visualise 2
Capacity
Theatre
52
Classroom
36
Boardroom
24
Cabaret
32
U-Shape
20
Dimensions
Length
6.4m
Width
7m
Area
44.8mē
Visualise Suite
Capacity
Theatre
100
Classroom
60
Boardroom
40
Cabaret
60
U-Shape
32
Dimensions
Length
13m
Width
14m
Area
182mē
Capivate 1
Capacity
Theatre
52
Classroom
36
Boardroom
24
Cabaret
32
U-Shape
20
Dimensions
Length
7m
Width
7m
Area
49mē
Captivate 2
Capacity
Theatre
52
Classroom
36
Boardroom
24
Cabaret
32
U-Shape
20
Dimensions
Length
6.4m
Width
7m
Area
44.8mē
Expand 1
Capacity
Theatre
63
Classroom
34
Boardroom
32
Cabaret
36
U-Shape
24
Dimensions
Length
8.8m
Width
7m
Area
61.6mē
Expand 2
Capacity
Theatre
63
Classroom
34
Boardroom
32
Cabaret
36
U-Shape
24
Dimensions
Length
8.9m
Width
7m
Area
62.3mē
Expand Suite
Capacity
Theatre
120
Classroom
88
Boardroom
60
Cabaret
72
U-Shape
52
Dimensions
Length
18m
Width
14m
Area
252mē
Illustrate
Dimensions
Length
6.5m
Width
3.8m
Area
24.7mē
Conclude
Dimensions
Length
6.8m
Width
3.8m
Area
25.84mē
Location map of Prospero House
What's On Today

Near Prospero House