Royal Horticultural Halls and Conference Centre Venue Hire
ADDRESS
TELEPHONE
0207 420 4986  
OPENING TIMES
Weekdays 7am-12am, Sat 8am-11pm, Sun 8am-10pm
Royal Horticultural Halls and Conference Centre has 13 rooms available for private hire
Venue hire at Royal Horticultural Halls and Conference Centre

Hire the Royal Horticultural Halls and Conference Centre for your own event.
The Royal Horticultural Halls and Conference Centre has 13 function rooms; the largest can hold a maximum of 1500 guests, the smallest is ideal for 1.
The architecturally unique Royal Horticultural Halls boasts two halls and a conference centre. Lindley Hall overlooking leafy Vincent Square is a popular venue for corporate events. Since it re-launched in 2001 it has been the location for Paul Smith's fashion shows and Decanter Wine Awards. Originally built in 1904, this classical Edwardian structure has state-of-the art contemporary facilities including a fully integrated sound system. Next door, Lawrence Hall has gorgeous high vaulted ceilings. This art deco style, multi-purpose hall has become well established for hosting niche market trade events such as antiques shows, wine fairs and classic car auctions as well as seasonal Royal Horticultural Society shows. When combined with the conference centre - which can house any number from two to 200 people - it has proved a successful choice for exhibition organisers looking for up to 1,800 square metres of stunning space.
Royal Horticultural Halls and Conference Centre images
Royal Horticultural Halls and Conference Centre  
Room 22 & 23
Capacity
Theatre
70
Classroom
45
Boardroom
35
Cabaret
40
U-Shape
50
Dimensions
Room 33
Capacity
Theatre
50
Classroom
15
Boardroom
24
U-Shape
32
Dimensions
Length
7.62m
Width
7m
Area
53.34mē
Lecture Theatre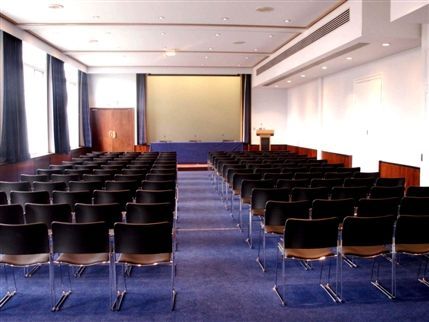 Capacity
Theatre
200
Classroom
70
Boardroom
45
Cabaret
80
U-Shape
45
Dimensions
Length
8.2m
Width
7.6m
Area
62.32mē
Room 31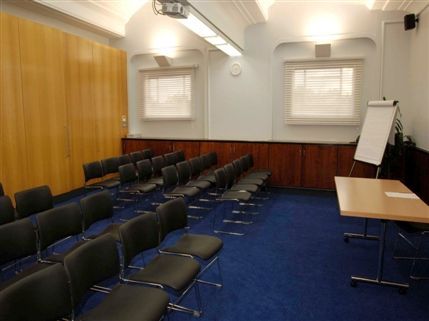 Capacity
Theatre
40
Classroom
1
Boardroom
20
U-Shape
32
Dimensions
Length
6.3m
Width
6.3m
Area
39.69mē
Lawrence Hall
Capacity
Theatre
100
Cabaret
720
Reception
1500
Dinner
900
Dance
750
Dimensions
Length
45.6m
Width
36.5m
Area
1664.4mē
Lindley Hall
Capacity
Theatre
450
Classroom
500
Cabaret
336
Reception
650
Dinner
420
Dance
350
Dimensions
Length
36m
Width
22m
Area
792mē
Glasshouse
Dimensions
Room 21
Capacity
Theatre
40
Classroom
15
Boardroom
20
U-Shape
32
Dimensions
Length
7.3m
Width
6.4m
Area
46.72mē
Room 22
Capacity
Theatre
40
Classroom
15
Boardroom
20
U-Shape
32
Dimensions
Length
7.1m
Width
6.1m
Area
43.31mē
Room 23
Capacity
Theatre
50
Classroom
15
Boardroom
24
U-Shape
32
Dimensions
Length
7.6m
Width
6.7m
Area
50.92mē
Room 32
Capacity
Theatre
40
Classroom
15
Boardroom
20
U-Shape
32
Dimensions
Length
6.4m
Width
7m
Area
44.8mē
Room 21 & 22
Capacity
Theatre
75
Classroom
45
Boardroom
35
U-Shape
40
Dimensions
Room 21, 22 & 23
Capacity
Theatre
120
Classroom
60
Boardroom
40
U-Shape
72
Dimensions
Location map of Royal Horticultural Halls and Conference Centre
What's On Today

Near Royal Horticultural Halls And Conference Centre