Lancaster London Venue Hire
ADDRESS
TELEPHONE
0207 420 4986  
Lancaster London has 17 rooms available for private hire
Venue hire at Lancaster London

Hire the Lancaster London for your own event.
The Lancaster London has 17 function rooms; the largest can hold a maximum of 1700 guests, the smallest is ideal for 6.
Though the interior of this hotel is undoubtedly impressive, it is the views that keep loyal customers coming back, with stunning vistas stretching out across the Royal Parks and all the way east to the great towers of the City of London. Located five minutes from Oxford Street, this a favourite for those who want to combine convenience with comfort.
Lancaster London images
Willow 1 (Forest Suite)
Capacity
Boardroom
14
Reception
20
Dimensions
Oak 1 (Forest Suite)
Capacity
Boardroom
12
Reception
25
Dimensions
Park Room (Forest Suite)
Capacity
Other
120
Dimensions
Beech 1 (Forest Suite)
Capacity
Boardroom
24
Reception
50
Dimensions
Westbourne Suite
Capacity
Theatre
1200
Classroom
700
Reception
1500
Dinner
1000
Dance
550
Dimensions
Area
1019m²
Nine Kings Suite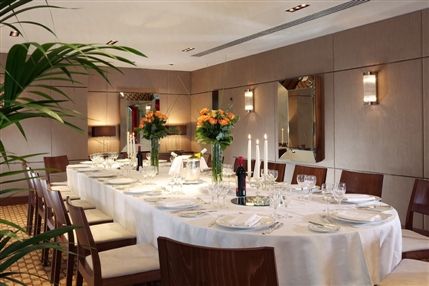 Capacity
Theatre
1400
Classroom
600
Reception
1700
Dinner
1400
Dance
1300
Dimensions
Area
1263m²
Cedar 1 (Forest Suite)
Capacity
Boardroom
12
Reception
20
Dimensions
Boardroom (Forest Suite)
Capacity
Boardroom
16
Reception
40
Dimensions
Beech 2 (Forest Suite)
Capacity
Boardroom
28
Reception
70
Dimensions
Beech 3 (Forest Suite)
Capacity
Boardroom
24
Reception
70
Dimensions
Beech 1+2 or 2+3 (Forest Suite)
Capacity
Boardroom
35
Reception
100
Dimensions
Cedar 2 (Forest Suite)
Capacity
Boardroom
6
Reception
10
Dimensions
Willow 2 (Forest Suite)
Capacity
Boardroom
14
Reception
20
Dimensions
Willow 3 (Forest Suite)
Capacity
Boardroom
14
Reception
20
Dimensions
Oak 2 (Forest Suite)
Capacity
Boardroom
15
Reception
30
Dimensions
Oak 3 (Forest Suite)
Capacity
Boardroom
35
Reception
80
Dimensions
Serpentine Room (Forest Suite)
Capacity
Boardroom
24
Reception
40
Dimensions
Location map of Lancaster London
What's On Today

Near Lancaster London