Sheraton Park Tower Venue Hire
†
†
ADDRESS
†
TELEPHONE
0207 420 4986 †
†
†
Sheraton Park Tower has 4 rooms available for private hire
Venue hire at Sheraton Park Tower
†

Hire the Sheraton Park Tower for your own event.
The Sheraton Park Tower has four function rooms; the largest can hold a maximum of 150 guests, the smallest is ideal for 10.
Sample a slice of the finest in English elegance at this sumptuous hotel. The Park Tower is an incredibly distinguished establishment located in the heart of upmarket Knightsbridge. Stylish furnishings combined with an extraordinarily attentive service give the hotel a welcome air of exclusivity. Guests are invited to savour the delights of the hotel's critically acclaimed fish restaurant or browse the upmarket clothes racks at nearby Harvey Nicks.
†
Sheraton Park Tower images
†
Venture Room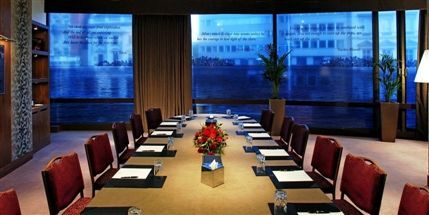 Capacity
Theatre
40
†
Classroom
18
†
Boardroom
18
†
U-Shape
18
†
Reception
60
†
†
Dimensions
Length
11.49m
†
Width
7.99m
†
Area
91.81m≤
†
Height
3.51m
†
†
†
Inspiration Room
Capacity
Theatre
25
†
Classroom
15
†
Boardroom
14
†
U-Shape
14
†
Reception
40
†
†
Dimensions
Length
6m
†
Width
8.99m
†
Area
53.94m≤
†
Height
3.51m
†
†
†
Trianon Room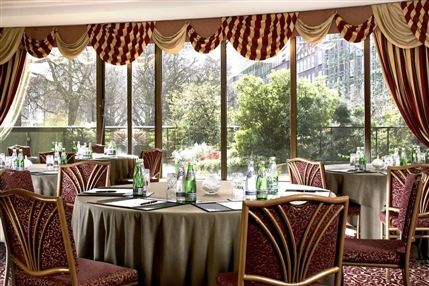 Capacity
Theatre
80
†
Classroom
40
†
Boardroom
26
†
U-Shape
28
†
Reception
150
†
†
Dimensions
Length
27.01m
†
Width
29.5m
†
Area
796.8m≤
†
Height
10.8m
†
†
†
Discovery Room
Capacity
Theatre
20
†
Classroom
10
†
U-Shape
10
†
Reception
40
†
Dimensions
Length
7.5m
†
Width
6m
†
Area
45m≤
†
Height
3.51m
†
†
†
Location map of Sheraton Park Tower
What's On Today

Near Sheraton Park Tower