The Hatton (etc.venues) Venue Hire
ADDRESS
The Hatton (etc.venues), 51- 53 Hatton Garden,
Clerkenwell
, London EC1N 8HN 
TELEPHONE
0207 420 4986  
The Hatton (etc.venues) has 28 rooms available for private hire
Venue hire at The Hatton (etc.venues)

Hire The Hatton (etc.venues) for your own event.
The Hatton (etc.venues) has 28 function rooms; the largest can hold a maximum of 140 guests, the smallest is ideal for 8.
This seven-storey venue provides an exceptionally stylish and vibrant training and conference environment. A large range of suites, training and meeting rooms in a supreme location are on offer at The Hatton, a venue short-listed for UK training venue of the year 2004.
The Hatton Venue Facilities
With flexible space, and natural daylight in all the rooms, The Hatton also boasts comprehensive audio-visual facilities - backed by the support of a full-time AV technician on-site and a business centre with phones, PCs and Internet access.
The Hatton Venue Hire
An excellent venue for corporate hospitality, with 3 self-contained conference suites, one with exclusive use of a courtyard and restaurant, makes it ideal for receptions and exclusive hire. It is no wonder The Hatton has become synonymous with style and setting the pace as a leading venue in London.
A short walk from both Chancery Lane and Farringdon stations, offering underground and main line rail connections you and your colleagues will find this venue an accessible whether you are from out of town or a city local.
The Hatton (etc.venues) images
Ruby 1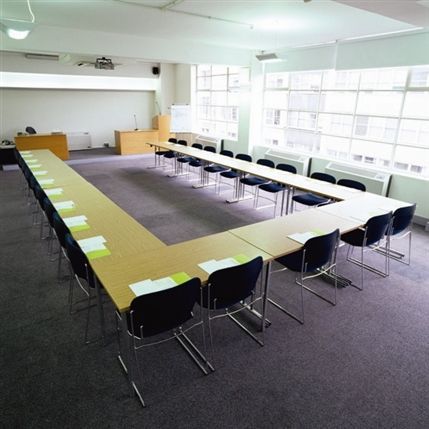 Capacity
Theatre
70
Classroom
40
Boardroom
36
Cabaret
36
U-Shape
30
Dimensions
Length
9.6m
Width
6.8m
Area
65.28mē
Diamond 1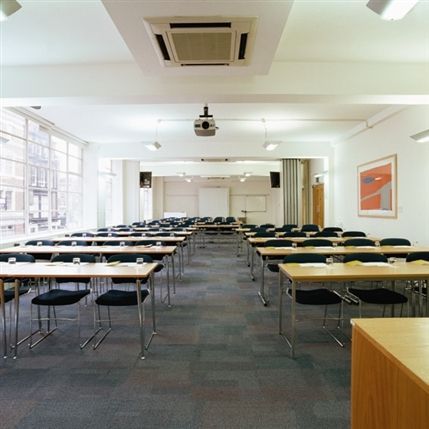 Capacity
Theatre
80
Classroom
60
Boardroom
32
Cabaret
42
U-Shape
24
Dimensions
Length
11m
Width
6.8m
Area
74.8mē
Sapphire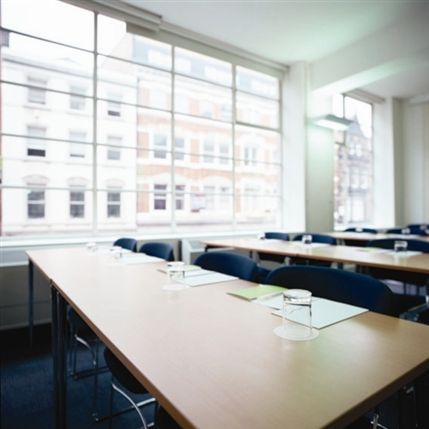 Capacity
Theatre
90
Classroom
50
Boardroom
44
Cabaret
48
U-Shape
40
Dimensions
Length
16.5m
Width
6.8m
Area
112.2mē
Gold Suite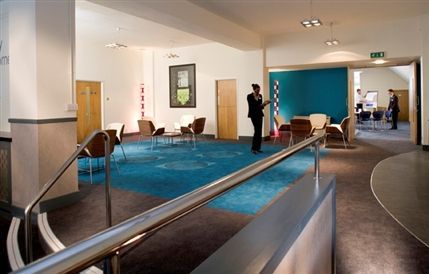 Capacity
Theatre
90
Classroom
60
Boardroom
30
Cabaret
54
U-Shape
24
Dimensions
Length
10.1m
Width
9.9m
Area
99.99mē
Pearl 1
Capacity
Theatre
60
Classroom
36
Boardroom
30
Cabaret
30
U-Shape
24
Dimensions
Length
10.5m
Width
6.4m
Area
67.2mē
Emerald 1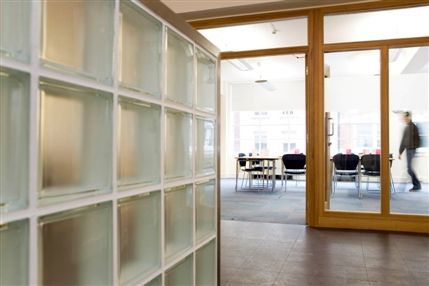 Capacity
Theatre
50
Classroom
30
Boardroom
28
Cabaret
24
U-Shape
24
Dimensions
Length
9m
Width
6.6m
Area
59.4mē
Pearl Suite
Capacity
Theatre
120
Classroom
80
Cabaret
66
Dimensions
Length
19m
Width
6.4m
Area
121.6mē
Pearl 2
Capacity
Theatre
50
Classroom
36
Boardroom
28
Cabaret
30
U-Shape
22
Dimensions
Length
10.5m
Width
6.4m
Area
67.2mē
Diamond 2
Capacity
Theatre
45
Classroom
30
Boardroom
24
Cabaret
25
U-Shape
18
Dimensions
Length
7.5m
Width
6.8m
Area
51mē
Diamond 3
Capacity
Theatre
60
Classroom
40
Boardroom
28
Cabaret
30
U-Shape
22
Dimensions
Length
9.4m
Width
6.8m
Area
63.92mē
Diamond Suite
Capacity
Theatre
140
Classroom
90
Cabaret
78
Dimensions
Length
19.5m
Width
6.8m
Area
132.6mē
Emerald 2
Capacity
Theatre
55
Classroom
40
Boardroom
32
Cabaret
30
U-Shape
26
Dimensions
Length
9.7m
Width
6.8m
Area
65.96mē
Emerald 3
Capacity
Theatre
40
Classroom
24
Boardroom
22
Cabaret
25
U-Shape
20
Dimensions
Length
9.6m
Width
6.8m
Area
65.28mē
Emerald Suite 2 & 3
Capacity
Theatre
110
Classroom
90
Cabaret
80
Dimensions
Length
19.5m
Width
6.8m
Area
132.6mē
Sapphire 2
Capacity
Theatre
60
Classroom
32
Boardroom
28
Cabaret
30
U-Shape
24
Dimensions
Length
9.4m
Width
6.8m
Area
63.92mē
Sapphire 3
Capacity
Theatre
20
Classroom
16
Boardroom
16
Cabaret
18
U-Shape
12
Dimensions
Length
8.2m
Width
5.5m
Area
45.1mē
Sapphire 4
Capacity
Theatre
20
Classroom
16
Boardroom
16
Cabaret
18
U-Shape
12
Dimensions
Length
6.8m
Width
4.5m
Area
30.6mē
Sapphire Suite
Capacity
Theatre
90
Classroom
50
Cabaret
48
U-Shape
40
Dimensions
Length
16.5m
Width
6.8m
Area
112.2mē
Silver 1
Capacity
Theatre
90
Classroom
50
Boardroom
44
Cabaret
48
U-Shape
40
Dimensions
Length
16.5m
Width
6.8m
Area
112.2mē
Silver 2
Capacity
Theatre
60
Classroom
32
Boardroom
28
Cabaret
30
U-Shape
24
Dimensions
Length
9.8m
Width
6.8m
Area
66.64mē
Silver 3
Capacity
Theatre
30
Classroom
18
Boardroom
16
Cabaret
18
U-Shape
12
Dimensions
Length
8.7m
Width
5.0m
Area
43.5mē
Ruby C
Dimensions
Length
3m
Width
3.3m
Area
9.9mē
Silver Suite
Capacity
Theatre
130
Classroom
110
Cabaret
80
Dimensions
Length
19.5m
Width
6.8m
Area
132.6mē
Ruby 2
Capacity
Theatre
50
Classroom
28
Boardroom
24
Cabaret
24
U-Shape
24
Dimensions
Length
9.6m
Width
6.8m
Area
65.28mē
Ruby 3
Capacity
Theatre
30
Classroom
18
Boardroom
16
Cabaret
18
U-Shape
16
Dimensions
Length
8.8m
Width
4.9m
Area
43.12mē
Ruby A
Dimensions
Length
5m
Width
3.3m
Area
16.5mē
Ruby D
Dimensions
Length
3m
Width
3.3m
Area
9.9mē
Ruby B
Dimensions
Length
5m
Width
3.3m
Area
16.5mē
Location map of The Hatton (etc.venues)
What's On Today

Near The Hatton (etc.venues)