Urban Golf Soho Venue Hire
ADDRESS
TELEPHONE
0207 420 4986  
Urban Golf Soho has 3 rooms available for private hire
Venue hire at Urban Golf Soho

Hire the Urban Golf Soho for your own event.
The Urban Golf Soho has three function rooms; the largest can hold a maximum of 130 guests, the smallest is ideal for 50.
OK, so you may not be able to soak up the rays on this indoor course but it's a brilliant idea that has been stylishly executed. Dearly loved by frustrated city-dwellers, this indoor golf centre offers 50 of the world's best courses. Golf enthusiasts can tee-off at The Belfry, Banff Springs, Bighorn or wherever they like from the comfort of one of six high-tech simulators. Players are free to pick their programmes, the holes they want to play and can match their abilities to the challenges set before them. Don't worry if the only type of iron you've previously gripped is one that takes the wrinkles out of your shirts, there are lessons available from pros who have worked with big name golfers like Padraig Harrington. Using the high-tech equipment and laser sensors to measure the speed, angle and spin rate of the ball as it leaves the club face, you can see where exactly your swing is going wrong - a feature which even regular players find particularly useful.
Urban Golf Soho images
Upper Half of Venue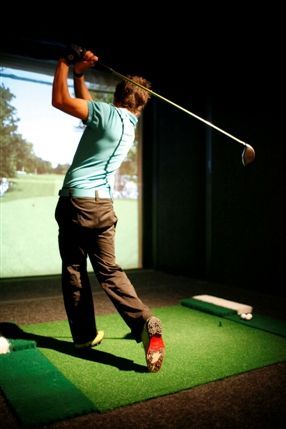 Capacity
Theatre
50
Reception
70
Dimensions
Lower Half of Venue
Dimensions
Whole Venue:
Dimensions
Location map of Urban Golf Soho
What's On Today

Near Urban Golf Soho