Hotels near The London Stone
FIND YOUR PERFECT LONDON HOTEL
Hotels near
The London Stone
All central London hotels
Room 1
Okay
Maximum 4 to a room.
+ Add another room
Most popular hotels near The London Stone
Club Quarters Gracechurch
London
>
Hotels
>
Mid-Range Chain Hotel
from £71

35% off
7 Gracechurch Street, EC3V 0DR |

4 minutes walk from The London Stone




The location of Club Quarters Gracechurch in the heart of the City has made it a favourite with business travellers. A cheerily macho atmosphere permeates from

More
Find other hotels near The London Stone
Hotels near The London Stone
The London Stone

This City pub opposite Cannon Street station gets its name from the London Stone, a Roman stone that can still be seen embedded in a wall just outside with a plaque identifying it, and which is said to be the heart of London. Legend has it that as long as the stone is safe the city is too. Run by the Eerie Pub Company, there's a spooky Gothic theme and Fridays are special horror nights with a performing magician on the first Thursday of the month. There are other trapdoor touches - the gents, for example, is accessed through a book case which doubles as a door. Halloween is an especially spooky night to visit when you can expect plenty of fancy dressed fun to be had.
Images of, and near, The London Stone
The London Stone The London Stone - The actual stone outside on Cannon Street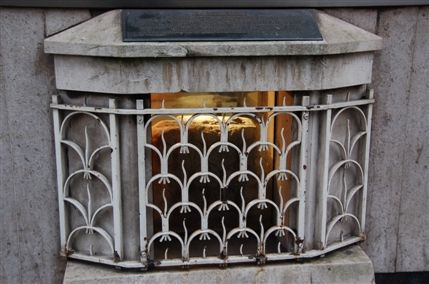 Customer Service - Speak to a London hotel expert

Email
Email a London Expert
Send email

Live Chat
Advisors available now
Chat to a London Expert
Live chat
Speak to a
London Hotel Expert

Telephone
From UK:
020 7437 4370
Free callback service
If you prefer, we can call you back for free:
Call me back

Top rated hotels near The London Stone
Previous customers have given the highest customer satisfaction score to these four hotels near to The London Stone:
6 minutes walk away
Double room from £106
8 minutes walk away
Double room from £113
10 minutes walk away
Double room from £129
4 minutes walk away
Double room from £98
Nearest hotels to The London Stone
There are 14 recommended places to stay within a 15 minutes walk from The London Stone:
Club Quarters Gracechurch ( 4 minutes)
Apex London Wall Hotel ( 6 minutes)
Apex City of London Hotel ( 9 minutes)
Grange St Paul's Hotel London ( 9 minutes)
Cheval Three Quays Apartments ( 10 minutes)
Club Quarters St Pauls Hotel ( 10 minutes)
DoubleTree by Hilton Tower of London ( 10 minutes)
Grange City Hotel London ( 11 minutes)
South Place Hotel ( 11 minutes)
CitizenM London Bankside ( 12 minutes)
Hilton London Tower Bridge ( 12 minutes)
196 Bishopsgate Serviced Apartments ( 12 minutes)
Crowne Plaza London The City ( 12 minutes)
Holiday Inn Express London Southwark ( 13 minutes)

Connect live to hotels' reservation system

Lowest rates available anywhere

Bookings made instantly with the hotel

Receive hotel's own reservation number

Pay the hotel directly

Our service is 100% FREE

LondonTown.com exclusive free extras

Hotel experts with 15 years experience

More about our customer service team