Hotels near The Electric Cinema, Shoreditch
FIND YOUR PERFECT LONDON HOTEL
All central London hotels
Room 1
Okay
Maximum 4 to a room.
+ Add another room
Most popular hotels near The Electric Cinema, Shoreditch
Hilton Cobham
London
>
Hotels
>
Mid-Range Chain Hotel
from £53

29% off
Seven Hills Road South, KT11 1EW |

331.6 miles from The Electric Cinema, Shoreditch




Located in the heart of Surrey, the Hilton Cobham is a great location for both business and leisure. For fun seekers, Chessington World of Adventures

More
Find other hotels near The Electric Cinema, Shoreditch
The Electric Cinema, Shoreditch

Previously the Aubin, the Electric Cinema in Shoreditch is housed within the three-story Barber & Parlour, which combines a barber, bar and coffee station, and the cinema. Part of the Soho House group and sister to the original Electric Cinema in Portobello, the cinema is unsurprisingly luxurious, with leather armchairs and footstalls, tables to rest your drinks and even cashmere blankets to snuggle under. The 50-seat cinema also serves a gourmet menu of snacks, including mini honey and mustard sausages, Quibble nuts, Portlebay popcorn, a black pudding sausage roll and hummus with pitta. Was it down with a glass of bubbly or wine, a pint of beer or a cocktail.
Images of, and near, The Electric Cinema, Shoreditch
The Electric Cinema, Shoreditch The Electric Cinema, Shoreditch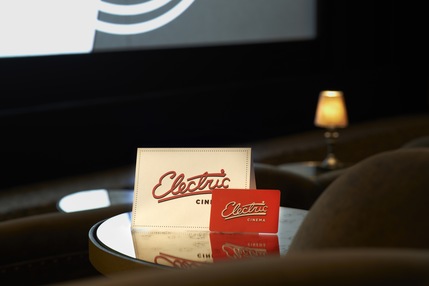 Customer Service - Speak to a London hotel expert

Email
Email a London Expert
Send email

Live Chat
Advisors available now
Chat to a London Expert
Live chat
Speak to a
London Hotel Expert

Telephone
From UK:
020 7437 4370
Free callback service
If you prefer, we can call you back for free:
Call me back


Connect live to hotels' reservation system

Lowest rates available anywhere

Bookings made instantly with the hotel

Receive hotel's own reservation number

Pay the hotel directly

Our service is 100% FREE

LondonTown.com exclusive free extras

Hotel experts with 15 years experience

More about our customer service team