Hotels near Thai Square - Trafalgar Square
FIND YOUR PERFECT LONDON HOTEL
Hotels near
Thai Square - Trafalgar Square
All central London hotels
Room 1
Okay
Maximum 4 to a room.
+ Add another room
Most popular hotels near Thai Square - Trafalgar Square
Club Quarters Trafalgar Square
London
>
Hotels
>
Mid-Range Chain Hotel
from £98

26% off
8 Northumberland Avenue, WC2N 5BY |

3 minutes walk from Thai Square - Trafalgar Square




A fantastic nineteenth century exterior hides a thoroughly modern hotel, with clean, minimalist design in the rooms. The biggest draw is the location, in the very

More
Find other hotels near Thai Square - Trafalgar Square
Hotels near Thai Square - Trafalgar Square
Thai Square - Trafalgar Square

Thai food is everywhere these days. The spicy, clean flavours are all over pub menus, either as green or red curries or influences on more European dishes. It is not surprising then to find that the quality of the food varies greatly, from manurish-green curries over-loaded with coriander, to satay that tastes like it's been dipped in peanut butter, rather than in a spiced, peanut relish. Thankfully, the Thai Square, near Trafalgar Square, is nothing like its imitators. The food there is exactly how Thai food should be: hot and sharp, rich and complex. When we visited we started with a platter of Thai dim sum. The chicken satay, the spring rolls and the prawn toasts were all notable, but the star of the platter was undoubtedly the prawn balls, in a chilli-soy sauce that heightened rather than drowned the flavour. Being traditionalists here, we had a tom yam soup between our starter and main course. Its hot-sour flavour cleansed the palate, and prepared us for the next course of spiced fish and beef Penang curry. The fish was excellent: crispy on the outside, soft and creamy fish-flesh on the inside, with the spice crust being delicate enough to enrich the flavour. The beef curry was nutty and creamy, spiked with the fresh aniseed tang of Thai holy basil, hot enough to excite the palate without making it inedible. The restaurant itself is light and airy, with Thai decorations and Buddhist references everywhere. Even though it's a busy place, you never feel overcrowded or suffocated. This is a wonderful place to try real Thai food and in a real Thai atmosphere. Very highly recommended.
Images of, and near, Thai Square - Trafalgar Square
Thai Square - Trafalgar Square Thai Square - Trafalgar Square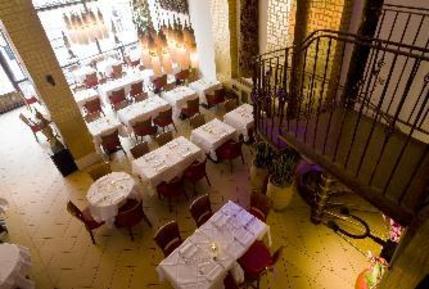 Customer Service - Speak to a London hotel expert

Email
Email a London Expert
Send email

Live Chat
Advisors available now
Chat to a London Expert
Live chat
Speak to a
London Hotel Expert

Telephone
From UK:
020 7437 4370
Free callback service
If you prefer, we can call you back for free:
Call me back

Top rated hotels near Thai Square - Trafalgar Square
Previous customers have given the highest customer satisfaction score to these five hotels near to Thai Square - Trafalgar Square:
6 minutes walk away
Double room from £3000
5 minutes walk away
Double room from £495
4 minutes walk away
Double room from £139
2 minutes walk away
Double room from £123
5 minutes walk away
Double room from £147
Nearest hotels to Thai Square - Trafalgar Square
There are 20 recommended places to stay within a 15 minutes walk from Thai Square - Trafalgar Square:
Thistle Trafalgar Square, The Royal Trafalgar ( 2 minutes)
Club Quarters Trafalgar Square ( 3 minutes)
The Trafalgar St. James London, Curio Collection by Hilton ( 3 minutes)
The Grand at Trafalgar Square ( 3 minutes)
Radisson Blu Edwardian Hampshire Hotel ( 3 minutes)
Every Hotel Piccadilly ( 4 minutes)
Amba Hotel Charing Cross ( 5 minutes)
Corinthia Hotel London ( 5 minutes)
St Martins Lane, A Morgans Original ( 5 minutes)
The Royal Horseguards - A Guoman Hotel ( 6 minutes)
Le Meridien Piccadilly ( 6 minutes)
Cafe Royal Hotel ( 6 minutes)
Cavendish London Hotel ( 7 minutes)
The Stafford London Hotel ( 9 minutes)
Strand Palace Hotel London ( 9 minutes)
Radisson Blu Edwardian Mercer Street ( 9 minutes)
The Nadler Soho Hotel ( 10 minutes)
Conrad London St. James ( 11 minutes)
The May Fair, A Radisson Collection Hotel ( 11 minutes)
The Waldorf Hilton Hotel London ( 11 minutes)

Connect live to hotels' reservation system

Lowest rates available anywhere

Bookings made instantly with the hotel

Receive hotel's own reservation number

Pay the hotel directly

Our service is 100% FREE

LondonTown.com exclusive free extras

Hotel experts with 15 years experience

More about our customer service team