Hotels near The Berkeley Health Club & Spa
FIND YOUR PERFECT LONDON HOTEL
Hotels near
The Berkeley Health Club & Spa
All central London hotels
Room 1
Okay
Maximum 4 to a room.
+ Add another room
Most popular hotels near The Berkeley Health Club & Spa
Halkin Hotel London
London
>
Hotels
>
Luxury Chain Hotel
from £279

21% off
Halkin Street, SW1X 7DJ |

4 minutes walk from The Berkeley Health Club & Spa




Located in London's fashionable Belgravia district, The Halkin has been setting the standard for luxurious, modern hotels since its opening in 1991. There's a boutique, designer

More
Find other hotels near The Berkeley Health Club & Spa
Hotels near The Berkeley Health Club & Spa
The Berkeley Health Club & Spa

The Health Club & Spa at The Berkeley hotel lays claim to being the only hotel spa in London to feature a roof top pool, and what a roof top it is - located above the seventh floor spa, the pool boasts wonderful views across Knightsbridge and Hyde Park. In keeping with the discrete atmosphere of this five star hotel, the spa is a haven of relaxing massages and indulgent beauty treatments where everything is perfectly pitched to make you leave feeling like a (well groomed) princess. Mums to be will be tempted by the Blooming Beautfil day spa package which includes a Mama Mio Mini Kit so you can continue the relaxation treatment at home. There are also Perfect Retreat packages 'for him' and 'for her' offering two hours of treatments that are sure to de-stress the parts other day spas cannot reach. The advantage of booking in for more than one treatment is that you can make a day of it, take lunch by the roof top pool, and afterwards stretch out on a sun lounger and make believe you're a million miles from the city. That's what we call a high flying spa experience.
Images of, and near, The Berkeley Health Club & Spa
The Berkeley Health Club & Spa The Berkeley Health Club & Spa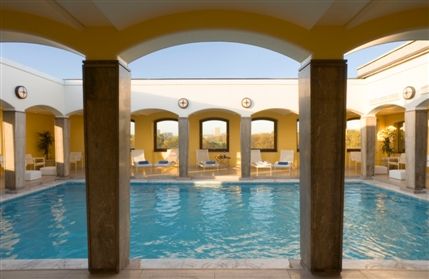 Customer Service - Speak to a London hotel expert

Email
Email a London Expert
Send email
Speak to a
London Hotel Expert

Telephone
From UK:
020 7437 4370
Free callback service
If you prefer, we can call you back for free:
Call me back

Top rated hotels near The Berkeley Health Club & Spa
Previous customers have given the highest customer satisfaction score to these five hotels near to The Berkeley Health Club & Spa:
4 minutes walk away
Double room from £421
6 minutes walk away
Double room from £205
8 minutes walk away
Double room from £400
5 minutes walk away
Double room from £413
9 minutes walk away
Double room from £133
Nearest hotels to The Berkeley Health Club & Spa
There are 20 recommended places to stay within a 15 minutes walk from The Berkeley Health Club & Spa:
Halkin Hotel London ( 4 minutes)
Millennium Hotel London Knightsbridge ( 5 minutes)
InterContinental London Park Lane ( 5 minutes)
The Levin Hotel London ( 6 minutes)
Metropolitan by Como, London ( 6 minutes)
The Hari ( 7 minutes)
London Hilton on Park Lane ( 7 minutes)
Park Lane Mews Hotel ( 7 minutes)
Athenaeum Hotel London ( 8 minutes)
Hilton London Green Park Hotel ( 9 minutes)
Cheval Knightsbridge Apartments ( 10 minutes)
Washington Mayfair Hotel ( 11 minutes)
Chesterfield Mayfair Hotel ( 11 minutes)
The Goring Hotel London ( 11 minutes)
Cheval Phoenix House Apartments ( 11 minutes)
No.11 Cadogan Gardens ( 12 minutes)
41 Hotel London ( 12 minutes)
The Rubens at the Palace Hotel ( 12 minutes)
The Nadler Victoria Hotel ( 12 minutes)
The Egerton House Hotel London ( 12 minutes)

Connect live to hotels' reservation system

Lowest rates available anywhere

Bookings made instantly with the hotel

Receive hotel's own reservation number

Pay the hotel directly

Our service is 100% FREE

LondonTown.com exclusive free extras

Hotel experts with 15 years experience

More about our customer service team