Hotels near Liverpool Street Tube Station
Hotels near
Liverpool Street Tube Station
All central London hotels
Check-in
Check-out
Guests
1 ADULT
2 ADULTS
1 ADULT, 1 CHILD (2-12 Years)
2 ADULTS, 1 CHILD (2-12 Years)
2 ADULTS, 2 CHILDREN (2-12 Years)
3 ADULTS
4 ADULTS
OTHER CONFIGURATION:

+ another room

Andaz Liverpool Street Hotel
London
>
Hotels
>
Luxury Chain Hotel
from £129

37% off
40 Liverpool Street, EC2M 7QN |

1 minute walk from Liverpool Street Tube Station




Housed in one of the great Victorian station hotels, this showstopper is a mixture of meticulous nineteenth century restoration and the glittering wit of Terence Conran's

More
South Place Hotel
London
>
Hotels
>
Mid-Range Chain Hotel
from £113

36% off
3 South Place, EC2M 2AF |

2 minutes walk from Liverpool Street Tube Station




Located within arms reach of both Moorgate and Liverpool Street stations, is South Place Hotel, a luxury London hotel featuring three swanky bars and two top-notch

More
Hotels near Liverpool Street Tube Station
Liverpool Street Tube Station

One of London's busiest commuter stations at the heart of financial London. Regular trains depart Liverpool Street for destinations in Essex and East Anglia. The Stansted Express leaves every 15 minutes for Stansted airport and takes about 45 minutes. Off peak the Express runs twice an hour, and is replaced by a bus service during the night. The Underground station connects to the Hammersmith and City, Circle, Metropolitan and Central lines. This bustling station is situated right on the north-east limits of the historic City of London. Nearby there are plenty of impressive buildings shooting up into the sky including Tower 42 and the Swiss Re Gherkin. To the north are the bars and clubs of Shoreditch and Old Street whilst eastwards lie Spitalfields Market and Brick Lane, the 'Curry Mile'.
Images of, and near, Liverpool Street Tube Station
Liverpool Street Tube Station Liverpool Street Tube Station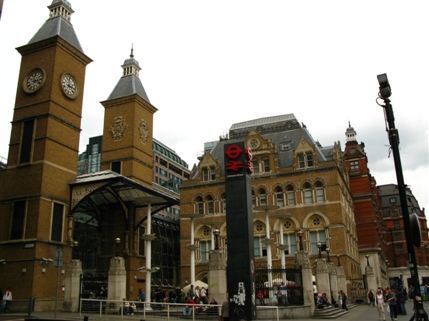 Customer Service - Speak to a London hotel expert

Telephone
From United States:
011 44 207 437 4370
8am to 11pm
Free callback service:
We can call you back

Email
Email a London Expert
Send email

Live Chat
Advisors available now
Chat to a London Expert
Live chat
Speak to a
London Hotel Expert

Telephone
From UK:
020 7437 4370
Free callback service
If you prefer, we can call you back for free:
Call me back

Top rated hotels near Liverpool Street Tube Station
Previous customers have given the highest customer satisfaction score to these five hotels near to Liverpool Street Tube Station:
5 minutes walk away
Double room from £291
9 minutes walk away
Double room from £216
6 minutes walk away
Double room from £229
5 minutes walk away
Double room from £263
2 minutes walk away
Double room from £133
Nearest hotels to Liverpool Street Tube Station
There are 11 recommended places to stay within a 15 minutes walk from Liverpool Street Tube Station:
Andaz Liverpool Street Hotel ( 1 minutes)
South Place Hotel ( 2 minutes)
Threadneedles, Marriott Autograph Collection ( 5 minutes)
Apex London Wall Hotel ( 5 minutes)
Club Quarters Gracechurch ( 6 minutes)
DoubleTree by Hilton Tower of London ( 9 minutes)
Grange City Hotel London ( 9 minutes)
Apex City of London Hotel ( 10 minutes)
Grange Tower Bridge Hotel ( 11 minutes)
Ace Hotel London Shoreditch ( 12 minutes)
Holiday Inn Express London-City ( 13 minutes)

Connect live to hotels' reservation system

Lowest rates available anywhere

Bookings made instantly with the hotel

Receive hotel's own reservation number

Pay the hotel directly

Our service is 100% FREE

LondonTown.com exclusive free extras

Hotel experts with 15 years experience

More about our customer service team