Hotels near Craven Cottage - Fulham FC
FIND YOUR PERFECT LONDON HOTEL
Hotels near
Craven Cottage - Fulham FC
All central London hotels
Room 1
Okay
Maximum 4 to a room.
+ Add another room
Most popular hotels near Craven Cottage - Fulham FC
The Lodge Hotel
London
>
Hotels
>
Mid-Range Chain Hotel
52-54 Upper Richmond Road, SW15 2RN |

26 minutes walk from Craven Cottage - Fulham FC




Located in west London's attractive Putney area, the Lodge Hotel offers a superior standard of accommodation, with rooms divided into three categories: standard, executive and luxury.

More
Find other hotels near Craven Cottage - Fulham FC
Hotels near Craven Cottage - Fulham FC
Craven Cottage - Fulham FC

The much-loved, ramshackle home of Fulham FC, Craven Cottage gets its name from the royal hunting lodge that used to sit where the centre circle of the pitch is now located. Boosted by the funds of former Harrods owner Mohammed Al-Fayed, this friendly west London football club has become a Premier League side after years in the lower divisions. Yet for all their success on the field, they still struggle to fill their charming riverside ground, which means the 25,700-capacity Craven Cottage is the only football club in the top flight to feature a special area for neutrals. It's also one of the few places in the country where you can catch all the glamour of the world's most famous football league without having to book months in advance. Perched right on the Thames besides the pretty Bishops Park between Hammersmith and Putney bridges, the ground's location is one of the most idyllic in English football. You can have your pre-match pies and beer while overlooking the passing rowing boats on the river, and once the game's over, spectators can stroll along the river in either direction where a host of quaint watering holes await. Outside the stadium, a statue of Fulham legend Johnny Haynes, in his classic 'hands-on-hip' pose, graces the main entrance - although inside the ground, a more controversial statue presides: one of Michael Jackson, who was a close friend of the eccentric Mr Al-Fayed.
Images of, and near, Craven Cottage - Fulham FC
Craven Cottage - Fulham FC Craven Cottage - Fulham FC - Fulham FC Ground - Craven Cottage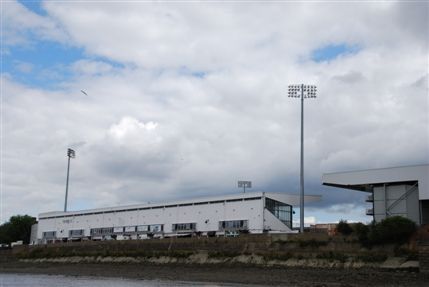 Customer Service - Speak to a London hotel expert

Email
Email a London Expert
Send email

Live Chat
Advisors available now
Chat to a London Expert
Live chat
Speak to a
London Hotel Expert

Telephone
From UK:
020 7437 4370
Free callback service
If you prefer, we can call you back for free:
Call me back


Connect live to hotels' reservation system

Lowest rates available anywhere

Bookings made instantly with the hotel

Receive hotel's own reservation number

Pay the hotel directly

Our service is 100% FREE

LondonTown.com exclusive free extras

Hotel experts with 15 years experience

More about our customer service team