Hotels near The Landmark Spa & Health Club
Hotels near
The Landmark Spa & Health Club
All central London hotels
Check-in
Check-out
Guests
1 ADULT
2 ADULTS
1 ADULT, 1 CHILD (2-12 Years)
2 ADULTS, 1 CHILD (2-12 Years)
2 ADULTS, 2 CHILDREN (2-12 Years)
3 ADULTS
4 ADULTS
OTHER CONFIGURATION:

+ another room

Landmark London Hotel
London
>
Hotels
>
Luxury Chain Hotel
from £158

31% off
222 Marylebone Road, NW1 6JQ |

1 minute walk from The Landmark Spa & Health Club




The Landmark London certainly lives up to its name, occupying an imposing Victorian building on Marylebone Road originally known as The Great Central Hotel. This landmark

More
Montagu Place Hotel London
London
>
Hotels
>
Mid-Range Chain Hotel
from £91

41% off
2-3 Montagu Place, W1H 2ER |

5 minutes walk from The Landmark Spa & Health Club




Located in the heart of Marylebone, this intimate hotel is housed in a Grade II listed Georgian townhouse near Baker Street, Marble Arch and the world

More
Hotels near The Landmark Spa & Health Club
The Landmark Spa & Health Club

The spa in the basement of the Landmark London hotel is small but spoiling with luxury E'SPA treatments and the use of the 15-metre swimming pool. The hotel originally opened as The Great Central Hotel in 1899 as one of the great Victorian railway hotels - the back entrance is directly linked to Marylebone station and there is even a covered wrought-iron walkway to get you there dry if it is raining. Now this large, traditional five-star hotel boasts a state of the art spa with two relaxation areas, a range of E'SPA massages, scrubs, wraps and facials, and a small but well-equipped gym overlooking the pool. After a work out in the pool you can relax in the warm whirlpool where the underwater bubbles will massage away any tension. Special treatments on offer include Jet Lag Reviver - for the weary traveller - and Prenatal treatment for mums-to-be while massage and body care therapies include full-body, neck and shoulder relief, hot stone, deep tissue and reflexology. The use of the spa is £15 per day for hotel guests and use of the gym, pool and heat facilities is complimentary when you book a treatment. Non residents can sign up for day or annual membership (at £30 a day, this is good value). Alternatively, day spa packages are available - the 'Soothe' option offers an hour-long treatment, a Bento Box lunch, a day of pool side relaxation and steaming, plus a gift to take home for £125. At £295, 'Indulge' is the most expensive package. But, if you really want to spoil yourself the hotel will arrange for a chauffeur to pick you up and take you home - with your own bathrobe.
Images of, and near, The Landmark Spa & Health Club
The Landmark Spa & Health Club The Landmark Spa & Health Club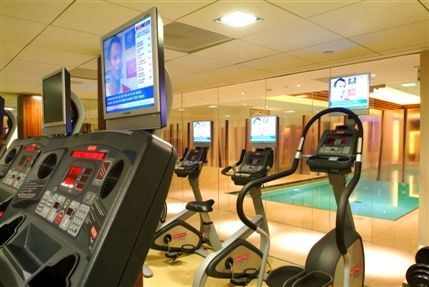 Customer Service - Speak to a London hotel expert

Telephone
From United States:
011 44 207 437 4370
8am to 11pm
Toll free: 1-800-986-9403
Free callback service:
We can call you back

Email
Email a London Expert
Send email

Live Chat
Advisors available now
Chat to a London Expert
Live chat
Speak to a
London Hotel Expert

Telephone
From UK:
020 7437 4370
Free callback service
If you prefer, we can call you back for free:
Call me back

Top rated hotels near The Landmark Spa & Health Club
Previous customers have given the highest customer satisfaction score to these five hotels near to The Landmark Spa & Health Club:
5 minutes walk away
Double room from £199
5 minutes walk away
Double room from £204
1 minutes walk away
Double room from £300
8 minutes walk away
Double room from £337
8 minutes walk away
Double room from £174
Nearest hotels to The Landmark Spa & Health Club
There are 17 recommended places to stay within a 15 minutes walk from The Landmark Spa & Health Club:
Landmark London Hotel ( 1 minutes)
Montagu Place Hotel London ( 5 minutes)
Park Plaza Sherlock Holmes Hotel London ( 5 minutes)
Hilton London Metropole Hotel ( 8 minutes)
Ten Manchester Street Hotel ( 8 minutes)
Radisson BLU Portman Hotel ( 8 minutes)
Hyatt Regency London The Churchill ( 10 minutes)
The Cumberland Hotel - a Guoman Hotel ( 10 minutes)
DoubleTree by Hilton London - Marble Arch ( 11 minutes)
Norfolk Towers Paddington ( 11 minutes)
Thistle Marble Arch Hotel ( 11 minutes)
Danubius Hotel Regents Park ( 11 minutes)
Radisson Blu Edwardian Sussex Hotel ( 12 minutes)
Mandeville Hotel London ( 12 minutes)
The Marylebone Hotel London ( 12 minutes)
Hotel Indigo London Paddington ( 13 minutes)
Holiday Inn Oxford Circus ( 13 minutes)

Connect live to hotels' reservation system

Lowest rates available anywhere

Bookings made instantly with the hotel

Receive hotel's own reservation number

Pay the hotel directly

Our service is 100% FREE

LondonTown.com exclusive free extras

Hotel experts with 15 years experience

More about our customer service team