Hotels near Museum of the Order of St John
Hotels near
Museum of the Order of St John
All central London hotels
Check-in
Check-out
Guests
1 ADULT
2 ADULTS
1 ADULT, 1 CHILD (2-12 Years)
2 ADULTS, 1 CHILD (2-12 Years)
2 ADULTS, 2 CHILDREN (2-12 Years)
3 ADULTS
4 ADULTS
OTHER CONFIGURATION:

+ another room

The Zetter Hotel London
London
>
Hotels
>
Mid-Range Chain Hotel
from £60

42% off
St John's Square 86-88 Clerkenwell Road, EC1M 5RJ |

1 minute walk from Museum of the Order of St John




This boutique hotel in trendy Clerkenwell fits right in with the warehouse chic designer feel of the neighbourhood. Mixing vintage chairs with stark modern prints, there's

More
Malmaison London
London
>
Hotels
>
Luxury Chain Hotel
from £91

31% off
18-21 Charterhouse Square, EC1M 6AH |

3 minutes walk from Museum of the Order of St John




Malmaison London has been stunningly converted into the finest boutique hotel in London. Right on the edge of trendy Clerkenwell and within the sound of bow

More
Hotels near Museum of the Order of St John
Museum of the Order of St John

This 16th century gatehouse was formerly the southern entrance to the Priory of the Medieval Order of St John and contains furniture, painting, silver, coins and medals relating to the Knights Hospitaller's history. The 12th century Norman Crypt and the Grand Priory Church can be seen on the guided tour. Armour, manuscripts and religious art are among the treasures on display in the museum. Among the highlights are a Flemish altarpiece that stood in the Priory church, a magnificent missal from the island of Rhodes, a cannon given to the Knights by Henry VIII, outstanding Maltese silver, and David Bomberg's painting of the Jerusalem Hospital. The museum underwent a £3.7 million refurbishment programme which concluded in late 2010. An interactive gallery uses multimedia exhibits to tell the story of the St John's Ambulance, which was founded by the British Order of St John in the 19th century.
Images of, and near, Museum of the Order of St John
Museum of the Order of St John Museum of the Order of St John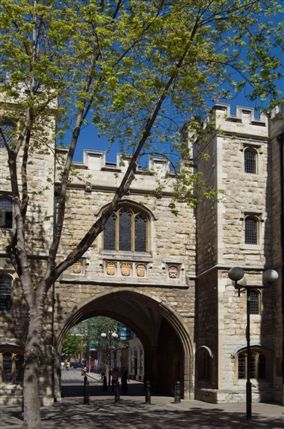 Customer Service - Speak to a London hotel expert

Telephone
From United States:
011 44 207 437 4370
8am to 11pm
Toll free: 1-800-986-9403
Free callback service:
We can call you back

Email
Email a London Expert
Send email

Live Chat
Advisors available now
Chat to a London Expert
Live chat
Speak to a
London Hotel Expert

Telephone
From UK:
020 7437 4370
Free callback service
If you prefer, we can call you back for free:
Call me back

Top rated hotels near Museum of the Order of St John
Previous customers have given the highest customer satisfaction score to these three hotels near to Museum of the Order of St John:
3 minutes walk away
Double room from £162
1 minutes walk away
Double room from £345
9 minutes walk away
Double room from £55
Nearest hotels to Museum of the Order of St John
There are 10 recommended places to stay within a 15 minutes walk from Museum of the Order of St John:
The Zetter Hotel London ( 1 minutes)
Malmaison London ( 3 minutes)
Citadines London Barbican Apart-Hotel ( 4 minutes)
Atelier EC1 Apartments By Bridgestreet ( 5 minutes)
Thistle City Barbican Hotel ( 9 minutes)
Club Quarters St Pauls Hotel ( 11 minutes)
Holiday Inn London Kings Cross - Bloomsbury ( 11 minutes)
Grange St Paul's Hotel London ( 12 minutes)
Apex Temple Court Hotel ( 12 minutes)
Crowne Plaza London The City ( 13 minutes)

Connect live to hotels' reservation system

Lowest rates available anywhere

Bookings made instantly with the hotel

Receive hotel's own reservation number

Pay the hotel directly

Our service is 100% FREE

LondonTown.com exclusive free extras

Hotel experts with 15 years experience

More about our customer service team