Hotels near Guildhall Art Gallery
Hotels near
Guildhall Art Gallery
All central London hotels
Check-in
Check-out
Guests
1 ADULT
2 ADULTS
1 ADULT, 1 CHILD (2-12 Years)
2 ADULTS, 1 CHILD (2-12 Years)
2 ADULTS, 2 CHILDREN (2-12 Years)
3 ADULTS
4 ADULTS
OTHER CONFIGURATION:

+ another room

The Zetter Hotel London
London
>
Hotels
>
Mid-Range Chain Hotel
from £60

38% off
St John's Square 86-88 Clerkenwell Road, EC1M 5RJ |

7 minutes walk from Guildhall Art Gallery




This boutique hotel in trendy Clerkenwell fits right in with the warehouse chic designer feel of the neighbourhood. Mixing vintage chairs with stark modern prints, there's

More
Hotels near Guildhall Art Gallery
Guildhall Art Gallery

The Guildhall Art Gallery is the Corporation of London's collection of 17th, 18th, 19th and 20th century works of art. Fine architecture and a sumptuous setting accompany this important and varied collection of paintings located in the heart of the City of London. Famous 19th century paintings include works by Constable, Landseer, Rossetti, Tissot and Millais, among many others. The gallery also offers the opportunity to see the fully restored, enormous 18th century canvas 'The Defeat of the Floating Batteries at Gibraltar, September 1782' by John Singleton Copley. In 1988, Museum of London archaeologists unearthed the capital's only Roman amphitheatre in Guildhall Yard. Almost 15 years later, the doors to the amphitheatre opened for the first time in nearly 2,000 years. Entry to the amphitheatre is included in the Gallery's admission and entry is free of charge on Fridays.
Images of, and near, Guildhall Art Gallery
Guildhall Art Gallery Guildhall Art Gallery - Guildhall Art Gallery Exterior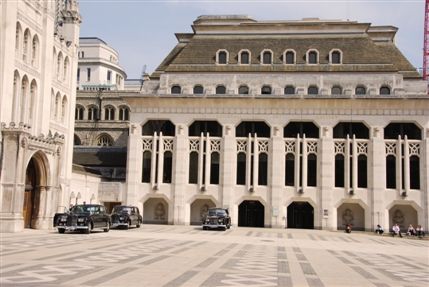 Customer Service - Speak to a London hotel expert

Telephone
From United States:
011 44 207 437 4370
8am to 11pm
Toll free: 1-800-986-9403
Free callback service:
We can call you back

Email
Email a London Expert
Send email

Live Chat
Advisors available now
Chat to a London Expert
Live chat
Speak to a
London Hotel Expert

Telephone
From UK:
020 7437 4370
Free callback service
If you prefer, we can call you back for free:
Call me back

Top rated hotels near Guildhall Art Gallery
Previous customers have given the highest customer satisfaction score to these two hotels near to Guildhall Art Gallery:
7 minutes walk away
Double room from £265
3 minutes walk away
Double room from £73
Nearest hotels to Guildhall Art Gallery
There are 18 recommended places to stay within a 15 minutes walk from Guildhall Art Gallery:
Holiday Inn London Kings Cross - Bloomsbury ( 3 minutes)
The Zetter Hotel London ( 7 minutes)
Atelier EC1 Apartments By Bridgestreet ( 8 minutes)
DoubleTree by Hilton London - West End ( 10 minutes)
Grange Holborn Hotel London ( 10 minutes)
Rosewood London ( 10 minutes)
Bloomsbury Park Hotel London ( 10 minutes)
DoubleTree by Hilton London - Islington ( 10 minutes)
Holiday Inn London Bloomsbury ( 11 minutes)
Hotel Russell London ( 11 minutes)
The Portland Hotel London ( 12 minutes)
The Clarendon Hotel London ( 12 minutes)
The Beauchamp Hotel London ( 12 minutes)
The Buckingham London ( 12 minutes)
Club Quarters Lincoln's Inn Fields ( 12 minutes)
The Montague on the Gardens ( 13 minutes)
Grange White Hall Hotel London ( 13 minutes)
Grange Blooms Hotel London ( 13 minutes)

Connect live to hotels' reservation system

Lowest rates available anywhere

Bookings made instantly with the hotel

Receive hotel's own reservation number

Pay the hotel directly

Our service is 100% FREE

LondonTown.com exclusive free extras

Hotel experts with 15 years experience

More about our customer service team