Hotels near Southbank Centre: Queen Elizabeth Hall
Hotels near
Southbank Centre: Queen Elizabeth Hall
All central London hotels
Check-in
Check-out
Guests
1 ADULT
2 ADULTS
1 ADULT, 1 CHILD (2-12 Years)
2 ADULTS, 1 CHILD (2-12 Years)
2 ADULTS, 2 CHILDREN (2-12 Years)
3 ADULTS
4 ADULTS
OTHER CONFIGURATION:

+ another room

Corinthia Hotel London
London
>
Hotels
>
Luxury Chain Hotel
from £285

28% off
Whitehall Place, SW1A 2BD |

6 minutes walk from Southbank Centre: Queen Elizabeth Hall




With 294 bedrooms, multi-level penthouse suites and terraces offering spectacular views of the River Thames, Trafalgar Square and Whitehall - the £300 million restoration of the

More
Hotels near Southbank Centre: Queen Elizabeth Hall
Southbank Centre: Queen Elizabeth Hall

Queen Elizabeth Hall is the second largest concert hall at Southbank Centre, presenting a diverse programme that covers the whole range of music and performing arts. The Royal Festival Hall's smaller sister venue Queen Elizabeth Hall ensures that even when there is a long-running show, the Southbank Centre can have almost nightly performances by world-class orchestras. The Hall hosts chamber orchestras, quartets, choirs, dance performances and opera. The building contains the Purcell Room, the most intimate concert hall venue at Southbank Centre, and The Front Room, a relaxed and informal platform for enjoying live music in the foyer. Located by the River Thames, with sweeping views of the capital from the London Eye to St Paul's Cathedral, the Southbank Centre is a unique metropolitan arts centre, with 21 acres of creative space and an extraordinary history. The combination of the Royal Festival Hall and Queen Elizabeth Hall make the Southbank Centre one of the world's leading concert venues.
Images of, and near, Southbank Centre: Queen Elizabeth Hall
Southbank Centre: Queen Elizabeth Hall Southbank Centre: Queen Elizabeth Hall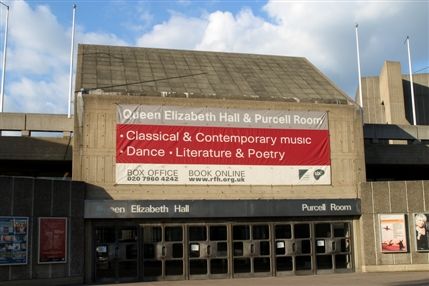 Customer Service - Speak to a London hotel expert

Telephone
From United States:
011 44 207 437 4370
8am to 11pm
Toll free: 1-800-986-9403
Free callback service:
We can call you back

Email
Email a London Expert
Send email

Live Chat
Advisors available now
Chat to a London Expert
Live chat
Speak to a
London Hotel Expert

Telephone
From UK:
020 7437 4370
Free callback service
If you prefer, we can call you back for free:
Call me back

Top rated hotels near Southbank Centre: Queen Elizabeth Hall
Previous customers have given the highest customer satisfaction score to these five hotels near to Southbank Centre: Queen Elizabeth Hall:
6 minutes walk away
Double room from £565
9 minutes walk away
Double room from £139
7 minutes walk away
Double room from £452
9 minutes walk away
Double room from £239
7 minutes walk away
Double room from £215
Nearest hotels to Southbank Centre: Queen Elizabeth Hall
There are 20 recommended places to stay within a 15 minutes walk from Southbank Centre: Queen Elizabeth Hall:
Park Plaza County Hall Hotel London ( 6 minutes)
The Royal Horseguards - A Guoman Hotel ( 6 minutes)
Corinthia Hotel London ( 6 minutes)
Citadines Trafalgar Square Apart-Hotel ( 7 minutes)
Park Plaza Westminster Bridge Hotel London ( 7 minutes)
Amba Hotel Charing Cross ( 7 minutes)
Strand Palace Hotel London ( 8 minutes)
ME London ( 8 minutes)
Tune Hotel - Westminster, London ( 9 minutes)
The Grand at Trafalgar Square ( 9 minutes)
Club Quarters Trafalgar Square ( 9 minutes)
The Trafalgar Hotel London ( 9 minutes)
Mondrian London ( 9 minutes)
The Waldorf Hilton Hotel London ( 9 minutes)
Hampton by Hilton London Waterloo ( 10 minutes)
St Martins Lane, A Morgans Original ( 10 minutes)
Thistle Trafalgar Square, The Royal Trafalgar ( 12 minutes)
Radisson Blu Edwardian Hampshire Hotel ( 12 minutes)
Holiday Inn Express London Southwark ( 12 minutes)
Apex Temple Court Hotel ( 12 minutes)

Connect live to hotels' reservation system

Lowest rates available anywhere

Bookings made instantly with the hotel

Receive hotel's own reservation number

Pay the hotel directly

Our service is 100% FREE

LondonTown.com exclusive free extras

Hotel experts with 15 years experience

More about our customer service team