Hotels near The Real Greek and Mezedopolio
FIND YOUR PERFECT LONDON HOTEL
Hotels near
The Real Greek and Mezedopolio
All central London hotels
Room 1
Okay
Maximum 4 to a room.
+ Add another room
Most popular hotels near The Real Greek and Mezedopolio
Courthouse Hotel Shoreditch
London
>
Hotels
>
Luxury Chain Hotel
from £141

40% off
335-337 Old Street, EC1V 9LL |

3 minutes walk from The Real Greek and Mezedopolio




Prison cells are VIP booths in the bar at the Courthouse Hotel Shoreditch, a 128 room hotel in the Old Magistrates Court and Police Station, opposite

More
Find other hotels near The Real Greek and Mezedopolio
Hotels near The Real Greek and Mezedopolio
The Real Greek and Mezedopolio

The Real Greek opened with some fanfare in 1999 with chef Theodore Kyriakou in the kitchen. This, the original version, is in the heart of trendy Hoxton which, back then, had more of an underground edge. Since then Kyriakou has departed and a whole series of Real Greeks has been rolled out across London, changing the concept from expensive but good quality food to Greek tapas which has, I think, diluted the concept. Happily, though, this one has managed to retain its original reputation. The cooking puts modern twists on old favourites like Kleftiko and stuffed lamb, and their souvlaki - kebab, grilled over charcoal embers and wrapped in flatbread - are very popular. The wine list is extensive and peppered with bottles made from Greek grown grapes while cocktails include ouzo-based concoctions, of course. A more affordable sister restaurant, Mezedopolio, next door offers similar modern Greek delights and nibbles to sample. A great taste of Greek cuisine.
Images of, and near, The Real Greek and Mezedopolio
The Real Greek and Mezedopolio The Real Greek and Mezedopolio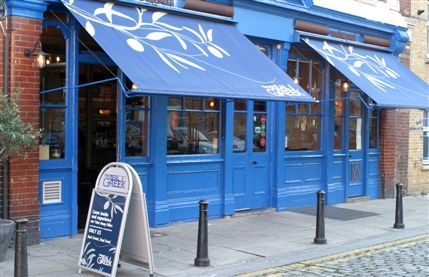 Customer Service - Speak to a London hotel expert

Email
Email a London Expert
Send email

Live Chat
Advisors available now
Chat to a London Expert
Live chat
Speak to a
London Hotel Expert

Telephone
From UK:
020 7437 4370
Free callback service
If you prefer, we can call you back for free:
Call me back

Top rated hotels near The Real Greek and Mezedopolio
Previous customers have given the highest customer satisfaction score to these two hotels near to The Real Greek and Mezedopolio:
5 minutes walk away
Double room from £159
1 minutes walk away
Double room from £53
Nearest hotels to The Real Greek and Mezedopolio
There are 7 recommended places to stay within a 15 minutes walk from The Real Greek and Mezedopolio:
Holiday Inn Express London-City ( 1 minutes)
Courthouse Hotel Shoreditch ( 3 minutes)
M by Montcalm Shoreditch London Tech City ( 5 minutes)
Ace Hotel London Shoreditch ( 5 minutes)
Thistle City Barbican Hotel ( 11 minutes)
South Place Hotel ( 11 minutes)
Andaz Liverpool Street Hotel ( 13 minutes)

Connect live to hotels' reservation system

Lowest rates available anywhere

Bookings made instantly with the hotel

Receive hotel's own reservation number

Pay the hotel directly

Our service is 100% FREE

LondonTown.com exclusive free extras

Hotel experts with 15 years experience

More about our customer service team