Hotels near Algerian Coffee Stores
Hotels near
Algerian Coffee Stores
All central London hotels
Check-in
Check-out
Guests
1 ADULT
2 ADULTS
1 ADULT, 1 CHILD (2-12 Years)
2 ADULTS, 1 CHILD (2-12 Years)
2 ADULTS, 2 CHILDREN (2-12 Years)
3 ADULTS
4 ADULTS
OTHER CONFIGURATION:

+ another room

Every Hotel Piccadilly
London
>
Hotels
>
Mid-Range Chain Hotel
from £96

36% off
Coventry Street, W1D 6BZ |

4 minutes walk from Algerian Coffee Stores




Located right next to Leicester Square, in the heart of London's West End, the Every Hotel Piccadilly is the perfect hotel for those wanting to enjoy

More
Hotels near Algerian Coffee Stores
Algerian Coffee Stores

Offering over 140 blends of coffee (including Arabic and Lebanese) and 200 types of tea sourced from around the world this Soho-based shop is a haven for hot beverage lovers. Their spiced coffee blends are an interesting alternative, chose from Lebanese with cardamon and Arabic with spices. Dating back to 1887 the store still boasts original features including rustic wooden shelving and counters and with its warm, rich aroma it's the perfect place to while away an afternoon.
Images of, and near, Algerian Coffee Stores
Algerian Coffee Stores Algerian Coffee Stores - Soho Algerian Coffee Stores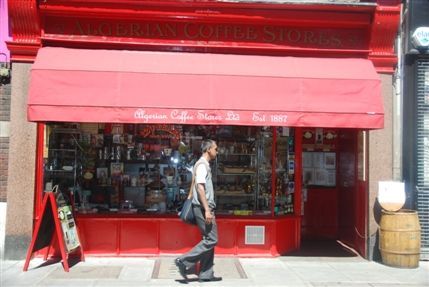 Customer Service - Speak to a London hotel expert

Telephone
From United States:
011 44 207 437 4370
8am to 11pm
Toll free: 1-800-986-9403
Free callback service:
We can call you back

Email
Email a London Expert
Send email

Live Chat
Advisors available now
Chat to a London Expert
Live chat
Speak to a
London Hotel Expert

Telephone
From UK:
020 7437 4370
Free callback service
If you prefer, we can call you back for free:
Call me back

Top rated hotels near Algerian Coffee Stores
Previous customers have given the highest customer satisfaction score to these five hotels near to Algerian Coffee Stores:
8 minutes walk away
Double room from £708
5 minutes walk away
Double room from £917
4 minutes walk away
Double room from £140
9 minutes walk away
Double room from £239
5 minutes walk away
Double room from £529
Nearest hotels to Algerian Coffee Stores
There are 20 recommended places to stay within a 15 minutes walk from Algerian Coffee Stores:
Every Hotel Piccadilly ( 4 minutes)
Radisson Blu Edwardian Mercer Street ( 5 minutes)
Radisson Blu Edwardian Hampshire Hotel ( 5 minutes)
Cafe Royal Hotel ( 5 minutes)
Thistle Trafalgar Square, The Royal Trafalgar ( 5 minutes)
St Martins Lane, A Morgans Original ( 6 minutes)
Le Meridien Piccadilly ( 6 minutes)
The Bloomsbury Hotel London ( 6 minutes)
The Courthouse Hotel ( 6 minutes)
The London EDITION ( 6 minutes)
Radisson Blu Edwardian Bloomsbury Street Hotel ( 7 minutes)
Sanderson, A Morgans Hotel ( 7 minutes)
Radisson Blu Edwardian Kenilworth Hotel ( 8 minutes)
myhotel Bloomsbury London ( 8 minutes)
No 5 Maddox Street London ( 8 minutes)
The Rathbone Hotel London ( 8 minutes)
Cavendish London Hotel ( 8 minutes)
Amba Hotel Charing Cross ( 9 minutes)
Westbury Mayfair Hotel London ( 9 minutes)
Club Quarters Trafalgar Square ( 9 minutes)

Connect live to hotels' reservation system

Lowest rates available anywhere

Bookings made instantly with the hotel

Receive hotel's own reservation number

Pay the hotel directly

Our service is 100% FREE

LondonTown.com exclusive free extras

Hotel experts with 15 years experience

More about our customer service team