Hotels near London Business School
FIND YOUR PERFECT LONDON HOTEL
Hotels near
London Business School
All central London hotels
Room 1
Okay
Maximum 4 to a room.
+ Add another room
Most popular hotels near London Business School
Landmark London Hotel
London
>
Hotels
>
Luxury Chain Hotel
from £206

31% off
222 Marylebone Road, NW1 6JQ |

7 minutes walk from London Business School




The Landmark London certainly lives up to its name, occupying an imposing Victorian building on Marylebone Road originally known as The Great Central Hotel. This landmark

More
Find other hotels near London Business School
Hotels near London Business School
London Business School

The London Business School is one of the premier professional schools in the world, and is justifiably famous for its MBA programme, which is the best in Europe. A wealth of shorter and modular countries are also available at this excellent school.
Recognised as one of the 5 best MBA programmes in the world, the 2-year course set up by the London Business School attracts the cream of global business leaders. This is a varied and challenging course at a well-equipped and connected faculty and most applicants will have the backing of a major corporation.
The core course lasts 2 years, including a 3-month placement in a London business, and an Entrepreneurship Study School. The school's international reputation and contacts mean that MBA students have the opportunity to take part in exchange programmes with other business schools across six continents. The elective modules of the course are also extremely diverse, with a choice of over 70 additional subjects. Students can also study a new language to further broaden their skill base.
This is one of the best MBA courses in the world.
Images of, and near, London Business School
London Business School London Business School - London Business School Exterior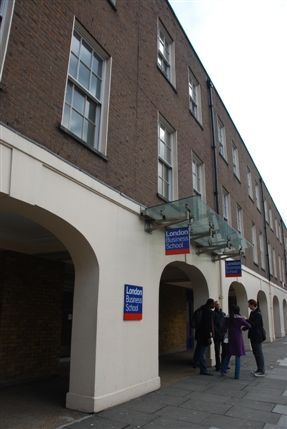 Customer Service - Speak to a London hotel expert

Email
Email a London Expert
Send email

Live Chat
Advisors available now
Chat to a London Expert
Live chat
Speak to a
London Hotel Expert

Telephone
From UK:
020 7437 4370
Free callback service
If you prefer, we can call you back for free:
Call me back

Top rated hotels near London Business School
Previous customers have given the highest customer satisfaction score to these three hotels near to London Business School:
8 minutes walk away
Double room from £155
7 minutes walk away
Double room from £221
7 minutes walk away
Double room from £188
Nearest hotels to London Business School
There are 5 recommended places to stay within a 15 minutes walk from London Business School:
Danubius Hotel Regents Park ( 7 minutes)
Landmark London Hotel ( 7 minutes)
Park Plaza Sherlock Holmes Hotel London ( 8 minutes)
Montagu Place Hotel London ( 10 minutes)
Hilton London Metropole Hotel ( 12 minutes)

Connect live to hotels' reservation system

Lowest rates available anywhere

Bookings made instantly with the hotel

Receive hotel's own reservation number

Pay the hotel directly

Our service is 100% FREE

LondonTown.com exclusive free extras

Hotel experts with 15 years experience

More about our customer service team