Hotels near Children's Tour of Television Centre
Dorsett Shepherds Bush
London
>
Hotels
>
Mid-Range Chain Hotel
from £90

37% off
58 Shepherds Bush Green, W12 8QE |

8 minutes walk from Children's Tour of Television Centre




Dorsett Shepherd's Bush is a four star hotel within a Grade II-listed red brick landmark building which opened as the Pavilion Cinema in 1923. Unoccupied since

More
Hilton London Kensington Hotel
London
>
Hotels
>
Mid-Range Chain Hotel
from £72

35% off
179-199 Holland Park Avenue, W11 4UL |

13 minutes walk from Children's Tour of Television Centre




Located in the leafy district of Holland Park and only five minutes' walk from the Westfield Shopping Centre and Notting Hill, the Hilton London Kensington is

More
K West Hotel & Spa London
London
>
Hotels
>
Luxury Chain Hotel
from £79

23% off
Richmond Way, W14 0AX |

13 minutes walk from Children's Tour of Television Centre




The K West Hotel and Spa oozes luxury - its sleek design runs from the striking exterior to the rooms' understated sophistication to the spa's calm

More
Hotels near Children's Tour of Television Centre
Children's Tour of Television Centre

BBC Television Centre is closing in early 2013, and tours will cease on 22nd February 2013.
Visit the studios where Newsround is recorded and play with the props of your favourite CBBC programmes on the
Children's Tour of Television Centre
behind-the-scenes at
BBC Television Centre
, the Beeb's White City headquarters. You can visit the garden of the world's longest-running children's television series - we're talking about Blue Peter, of course - get involved in the interactive studio and become TV characters 'Diddy Dick' and 'Diddy Dom'. You can even peek inside the dressing rooms of the BBC stars and - if you're lucky - you may even get to see some programmes being recorded. Because
Television Centre
is a working office, what you'll see - and who you might bump into in the corridors - depends on the daily changing schedule. The
Children's Tour of Television Centre
is for children aged 6 to 11 years and lasts one and a half to two hours.
Images of, and near, Children's Tour of Television Centre
Children's Tour of Television Centre Children's Tour of Television Centre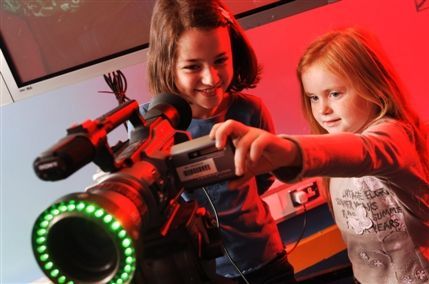 Customer Service - Speak to a London hotel expert

Telephone
From United States:
011 44 207 437 4370
8am to 11pm
Toll free: 1-800-986-9403
Free callback service:
We can call you back

Email
Email a London Expert
Send email

Live Chat
Advisors available now
Chat to a London Expert
Live chat
Speak to a
London Hotel Expert

Telephone
From UK:
020 7437 4370
Free callback service
If you prefer, we can call you back for free:
Call me back

Top rated hotels near Children's Tour of Television Centre
Previous customers have given the highest customer satisfaction score to this one hotel:
8 minutes walk away
Double room from £98
Nearest hotels to Children's Tour of Television Centre
There are 2 recommended places to stay within a 15 minutes walk from Children's Tour of Television Centre:
Dorsett Shepherds Bush ( 8 minutes)
Hilton London Kensington Hotel ( 13 minutes)

Connect live to hotels' reservation system

Lowest rates available anywhere

Bookings made instantly with the hotel

Receive hotel's own reservation number

Pay the hotel directly

Our service is 100% FREE

LondonTown.com exclusive free extras

Hotel experts with 15 years experience

More about our customer service team