Hotels near Klezmer in the Park
FIND YOUR PERFECT LONDON HOTEL
Hotels near
Klezmer in the Park
All central London hotels
Room 1
Okay
Maximum 4 to a room.
+ Add another room
Most popular hotels near Klezmer in the Park
Find other hotels near Klezmer in the Park
Hotels near Klezmer in the Park
Klezmer in the Park

Klezmer in the Park
is a celebration of Jewish music in all its guises - from centuries old tunes and Yiddish songs to more unexpected strains of contemporary jazz, Latin, gypsy and world music. Taking place in
Regent's Park
, it's a free afternoon of music and dance featuring seven well known klezmer bands on the park's bandstand. This year's artists include Los Desterrados, Hamsa, The Turbans and Frank London's UK Klezmer Allstars, all of whom will be introduced by BBC Radio 3 DJ Max Reinhardt. There will also be a Kid's Klezmer club offering free activities throughout the day. With the backing of the Mayor, this is effectively a reincarnation of what used to be 'Simcha on the Square' but instead of Trafalgar Square, Regent's Park bandstand is the setting for this family friendly day out.
Images of, and near, Klezmer in the Park
Klezmer in the Park Klezmer in the Park - Klezmer in the Park 2012, She'Koyokh, photo by Volker Beushausen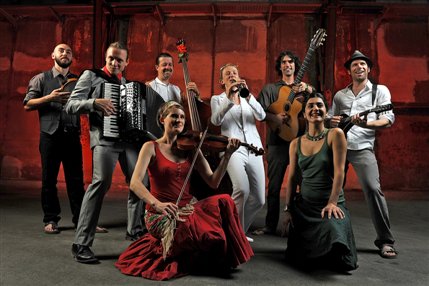 Customer Service - Speak to a London hotel expert

Email
Email a London Expert
Send email

Live Chat
Advisors available now
Chat to a London Expert
Live chat
Speak to a
London Hotel Expert

Telephone
From UK:
020 7437 4370
Free callback service
If you prefer, we can call you back for free:
Call me back

Nearest hotels to Klezmer in the Park
There are 6 recommended places to stay within a 15 minutes walk from Klezmer in the Park:
Holiday Inn London Regent's Park ( 10 minutes)
Park Plaza Sherlock Holmes Hotel London ( 11 minutes)
Grange Fitzrovia Hotel London ( 11 minutes)
Radisson Blu Edwardian Grafton Hotel ( 12 minutes)
TheWesley Hotel London ( 12 minutes)
ibis London Euston St Pancras ( 13 minutes)

Connect live to hotels' reservation system

Lowest rates available anywhere

Bookings made instantly with the hotel

Receive hotel's own reservation number

Pay the hotel directly

Our service is 100% FREE

LondonTown.com exclusive free extras

Hotel experts with 15 years experience

More about our customer service team