Hotels near Oxford vs. Cambridge Boat Race
Putney Bridge
, Between Fulham and Putney, Hammersmith and Fulham, London SW6 3JD
FIND YOUR PERFECT LONDON HOTEL
Hotels near
Oxford vs. Cambridge Boat Race
All central London hotels
Room 1
Okay
Maximum 4 to a room.
+ Add another room
Most popular hotels near Oxford vs. Cambridge Boat Race
The Lodge Hotel
London
>
Hotels
>
Mid-Range Chain Hotel
from £93

40% off
52-54 Upper Richmond Road, SW15 2RN |

14 minutes walk from Oxford vs. Cambridge Boat Race




Located in west London's attractive Putney area, the Lodge Hotel offers a superior standard of accommodation, with rooms divided into three categories: standard, executive and luxury.

More
Find other hotels near Oxford vs. Cambridge Boat Race
Hotels near Oxford vs. Cambridge Boat Race
Oxford vs. Cambridge Boat Race

England's most famous universities square off in this four-mile rowing race which inaugurates the summer season in London. With it being the 1
58th annual Boat Race
, this is one of the oldest sporting events in the world and is a spectacular display of strength and teamwork. Around a quarter of a million fans line the banks of the river to roar their encouragement (add to that 120m who follow the race on TV across the world). There's a great view - and some great pubs - around Furnival Gardens on the north side of the
Thames
near
Hammersmith Bridge
. Alternatively, you might like to watch from near the start at Putney Bridge, where the big screens on both banks allow spectators to monitor the race as it heads its way around the first bend. Nearby, at Bishops Park behind the South Stand of Fulham football ground Craven Cottage, you'll find food stalls, family attractions (bouncy castle, face painting and a climbing wall) and a large beer tent.
Images of, and near, Oxford vs. Cambridge Boat Race
Oxford vs. Cambridge Boat Race Oxford vs. Cambridge Boat Race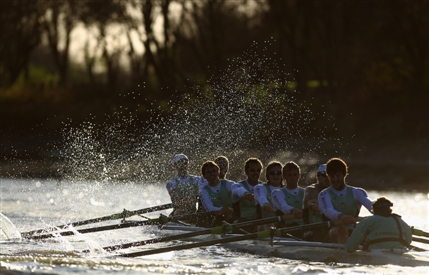 Customer Service - Speak to a London hotel expert

Email
Email a London Expert
Send email
Speak to a
London Hotel Expert

Telephone
From UK:
020 7437 4370
Free callback service
If you prefer, we can call you back for free:
Call me back


Connect live to hotels' reservation system

Lowest rates available anywhere

Bookings made instantly with the hotel

Receive hotel's own reservation number

Pay the hotel directly

Our service is 100% FREE

LondonTown.com exclusive free extras

Hotel experts with 15 years experience

More about our customer service team