Hotels near Henley Royal Regatta 2015
FIND YOUR PERFECT LONDON HOTEL
Hotels near
Henley Royal Regatta 2015
All central London hotels
Room 1
Okay
Maximum 4 to a room.
+ Add another room
Most popular hotels near Henley Royal Regatta 2015
Find other hotels near Henley Royal Regatta 2015
Henley Royal Regatta 2015

Henley Regatta
is a historic occasion, set in a riverside village that has hardly changed in the last two centuries and bringing some serious competition to the water in one of Britain's most famous summer sporting events. It has been running since 1839, and has grown from a local event into one of the biggest meetings in rowing, attracting crews of international quality to an array of Challenge Trophies. The draw is still conducted on a knock-out basis with only two boats racing in each heat. Nineteen events take place over the five days including six classes of races for Eights and aces for Coxless Pairs and Double Sculls. But this is just as much a social event, with thousands gathering to eat picnics and drink Pimm's aplenty by the waterside. Expect lots of Tim-Nice-But-Dims as the English upper class and middle classes descend in their hoards.
Images of, and near, Henley Royal Regatta 2015
Henley Royal Regatta 2015 Henley Royal Regatta 2015 - Image courtesy of Jaap Oepkes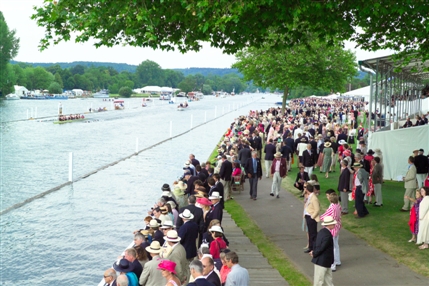 Customer Service - Speak to a London hotel expert

Email
Email a London Expert
Send email

Live Chat
Advisors available now
Chat to a London Expert
Live chat
Speak to a
London Hotel Expert

Telephone
From UK:
020 7437 4370
Free callback service
If you prefer, we can call you back for free:
Call me back


Connect live to hotels' reservation system

Lowest rates available anywhere

Bookings made instantly with the hotel

Receive hotel's own reservation number

Pay the hotel directly

Our service is 100% FREE

LondonTown.com exclusive free extras

Hotel experts with 15 years experience

More about our customer service team