Hotels near The Fish Shop at Kensington Place
Hotels near
The Fish Shop at Kensington Place
All central London hotels
Check-in
Check-out
Guests
1 ADULT
2 ADULTS
1 ADULT, 1 CHILD (2-12 Years)
2 ADULTS, 1 CHILD (2-12 Years)
2 ADULTS, 2 CHILDREN (2-12 Years)
3 ADULTS
4 ADULTS
OTHER CONFIGURATION:

+ another room

The Abbey Court Notting Hill
London
>
Hotels
>
Mid-Range Chain Hotel
from £81

24% off
20 Pembridge Gardens, W2 4DU |

2 minutes walk from The Fish Shop at Kensington Place




Wrap yourself in Victorian elegance at this exclusive hotel. Located in peaceful residential street close to Notting Hill gate, the shops and nightlife of the West-end

More
Hotels near The Fish Shop at Kensington Place
The Fish Shop at Kensington Place

The tidy little fishmongers attached to the landmark Kensington Place restaurant does a roaring trade. Since much of the stock at The Fish Shop at Kensington Place is used by the restaurant, they're able to offer rigorous quality and freshness control. It's also possible to buy some of the restaurant's signature dishes pre-prepared to take home and cook. They have the largest and most impressive items of its stock on view, so if you're planning a whole seabass or salmon for a big meal, you'll be able to check out the options immediately. If fillets and fruits de mer are what you're after, ask the (always helpful) staff and they can usually find whatever you're looking for in one of the many fridges and compartments that allows the Fish Shop to offer a selection quite out of proportion to its size. Choosy Kensington foodies are among the customers, and so standards have to be kept extremely high.
Images of, and near, The Fish Shop at Kensington Place
The Fish Shop at Kensington Place The Fish Shop at Kensington Place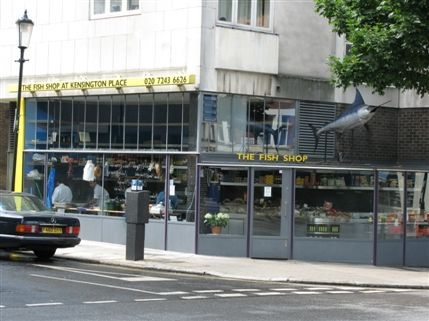 Customer Service - Speak to a London hotel expert

Telephone
From United States:
011 44 207 437 4370
8am to 11pm
Toll free: 1-800-986-9403
Free callback service:
We can call you back

Email
Email a London Expert
Send email

Live Chat
Advisors available now
Chat to a London Expert
Live chat
Speak to a
London Hotel Expert

Telephone
From UK:
020 7437 4370
Free callback service
If you prefer, we can call you back for free:
Call me back

Top rated hotels near The Fish Shop at Kensington Place
Previous customers have given the highest customer satisfaction score to these four hotels near to The Fish Shop at Kensington Place:
2 minutes walk away
Double room from £110
5 minutes walk away
Double room from £86
7 minutes walk away
Double room from £158
9 minutes walk away
Double room from £56
Nearest hotels to The Fish Shop at Kensington Place
There are 13 recommended places to stay within a 15 minutes walk from The Fish Shop at Kensington Place:
The Abbey Court Notting Hill ( 2 minutes)
DoubleTree by Hilton London Hyde Park ( 5 minutes)
Hilton London Hyde Park Hotel ( 7 minutes)
Berjaya Eden Park London Hotel ( 9 minutes)
Royal Garden Hotel London ( 10 minutes)
Thistle Kensington Gardens ( 10 minutes)
Blakemore Hyde Park Hotel ( 11 minutes)
Lancaster Gate Hotel London ( 12 minutes)
The Milestone Hotel London ( 12 minutes)
Thistle Hyde Park Hotel London ( 13 minutes)
The Caesar Hotel London ( 13 minutes)
Baglioni Hotel London ( 13 minutes)
Copthorne Tara Hotel London Kensington ( 13 minutes)

Connect live to hotels' reservation system

Lowest rates available anywhere

Bookings made instantly with the hotel

Receive hotel's own reservation number

Pay the hotel directly

Our service is 100% FREE

LondonTown.com exclusive free extras

Hotel experts with 15 years experience

More about our customer service team