Hotels near Lewis Schaffer is Free until Famous
Cafe Royal Hotel
London
>
Hotels
>
Luxury Chain Hotel
from £220

23% off
68 Regent Street, W1B 4DY |

1 minute walk from Lewis Schaffer is Free until Famous




Café Royal is a 160-bedroom 5-star luxury hotel on Regent Street, in London's city centre overlooking Piccadilly Circus. The hotel has conference facilities, a cafe, bar

More
Cavendish London Hotel
London
>
Hotels
>
Luxury Chain Hotel
from £113

21% off
81 Jermyn Street, SW1Y 6JF |

4 minutes walk from Lewis Schaffer is Free until Famous




Situated on prestigious Jermyn Street, in the heart of Piccadilly, the 4 star deluxe Cavendish Hotel is perfectly located for London's theatres, shops and arts. It

More
Hotels near Lewis Schaffer is Free until Famous
Lewis Schaffer is Free until Famous

Still yet to hit the big time, provocative US comic
Lewis Schaffer
continues his run of free shows at Soho's elusive
Source Below
bar. A seasoned stand-up who used to play all of Manhattan's big comedy clubs, the amiable Schaffer left "the best city in the world" back in 2000 when he married an English lady. 10 years, two children and a divorce later and the bespectacled jokesmith finds himself a hostage in a council flat in Nunhead. Schaffer plays the middle-aged Jewish New Yorker schtick with aplomb (think the neuroses of Woody Allen and the irreverence of Greg Proops) and he's certainly not shy of harsh one-liners, offensive put-downs and delusional, opinionated bitching.
Cynics may say that Schaffer's tactic of offering free shows until he becomes a household name will only lead to an impecunious life, but don't worry about Lewie, he'll be ok - and what do you have to lose? Schaffer's train of thought can often be derailed, but he blends satirical bullets with a large dose of dark comedy and he's not afraid to wind up the audience, which can make for thrilling - if unpredictable - interaction in this intimate basement venue. A collection is made at the end - and like all true New Yorkers, Schaffer appreciates a tip ("It's kinda free. Give if you laugh. Bring money just in case," he says). But you get the impression that all he really wants is to make a few friends. Oh, and to be famous.
Reserve beforehand at
www.sourcebelow.com.
Images of, and near, Lewis Schaffer is Free until Famous
Lewis Schaffer is Free until Famous Lewis Schaffer is Free until Famous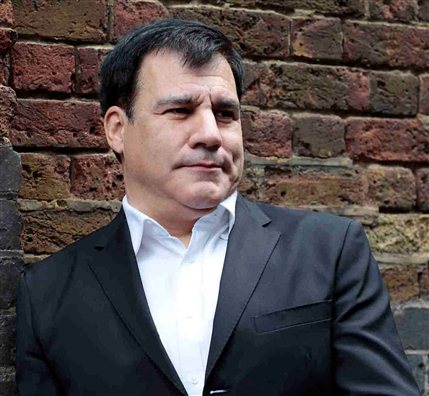 Customer Service - Speak to a London hotel expert

Telephone
From United States:
011 44 207 437 4370
8am to 11pm
Toll free: 1-800-986-9403
Free callback service:
We can call you back

Email
Email a London Expert
Send email

Live Chat
Advisors available now
Chat to a London Expert
Live chat
Speak to a
London Hotel Expert

Telephone
From UK:
020 7437 4370
Free callback service
If you prefer, we can call you back for free:
Call me back

Top rated hotels near Lewis Schaffer is Free until Famous
Previous customers have given the highest customer satisfaction score to these five hotels near to Lewis Schaffer is Free until Famous:
5 minutes walk away
Double room from £413
9 minutes walk away
Double room from £163
5 minutes walk away
Double room from £135
4 minutes walk away
Double room from £385
6 minutes walk away
Double room from £127
Nearest hotels to Lewis Schaffer is Free until Famous
There are 20 recommended places to stay within a 15 minutes walk from Lewis Schaffer is Free until Famous:
Cafe Royal Hotel ( 1 minutes)
Cavendish London Hotel ( 4 minutes)
Thistle Piccadilly Hotel London ( 5 minutes)
No 5 Maddox Street London ( 5 minutes)
The Courthouse Hotel ( 5 minutes)
Thistle Trafalgar Square, The Royal Trafalgar ( 6 minutes)
Radisson Blu Edwardian Hampshire Hotel ( 6 minutes)
Holiday Inn London Mayfair ( 6 minutes)
St. James's Hotel & Club London ( 7 minutes)
The May Fair Hotel London ( 7 minutes)
The London EDITION ( 8 minutes)
St Martins Lane, A Morgans Original ( 9 minutes)
Sanderson, A Morgans Hotel ( 9 minutes)
Washington Mayfair Hotel ( 9 minutes)
Chesterfield Mayfair Hotel ( 9 minutes)
Radisson Blu Edwardian Mercer Street ( 9 minutes)
The Trafalgar Hotel London ( 10 minutes)
Club Quarters Trafalgar Square ( 10 minutes)
The Grand at Trafalgar Square ( 10 minutes)
Hilton London Green Park Hotel ( 10 minutes)

Connect live to hotels' reservation system

Lowest rates available anywhere

Bookings made instantly with the hotel

Receive hotel's own reservation number

Pay the hotel directly

Our service is 100% FREE

LondonTown.com exclusive free extras

Hotel experts with 15 years experience

More about our customer service team