Hotels near The Princess of Shoreditch
FIND YOUR PERFECT LONDON HOTEL
Hotels near
The Princess of Shoreditch
All central London hotels
Room 1
Okay
Maximum 4 to a room.
+ Add another room
Most popular hotels near The Princess of Shoreditch
Courthouse Hotel Shoreditch
London
>
Hotels
>
Luxury Chain Hotel
from £127

33% off
335-337 Old Street, EC1V 9LL |

4 minutes walk from The Princess of Shoreditch




Prison cells are VIP booths in the bar at the Courthouse Hotel Shoreditch, a 128 room hotel in the Old Magistrates Court and Police Station, opposite

More
Ace Hotel London Shoreditch
London
>
Hotels
>
Mid-Range Chain Hotel
from £113

42% off
100 Shoreditch High Street, E1 6JQ |

5 minutes walk from The Princess of Shoreditch




Hip US hotel group Ace hotels arrived in Shoreditch in September 2013, expanding from their US sites to add a London outpost. The property has transformed

More
Find other hotels near The Princess of Shoreditch
Hotels near The Princess of Shoreditch
The Princess of Shoreditch

Take the spiral staircase up out of this busy Old Street boozer and you find yourself in a small, chic dining room with big picture windows, hardwood tables and a light, luxurious vibe. My Princess immediately clocked their vintage wallpaper which matched the sign outside, and I have to say the decor is worth a mention - very nice. More importantly, the food is top notch.
Friday night and The Princess was pretty busy, with a few sizeable parties in, but the smiling staff were juggling the lot with aplomb. The wine list is pretty long in true gastro style but the waitress was knowledgeable and a subtle bottle of Sangiovese was well judged given our varied orders.
The menu is pretty adventurous but with a sensible emphasis on preparation and good ingredients, allowing fast turnaround from the kitchen. Crab and prawn risotto was lovingly prepared and richly flavoured, while a beef carpaccio was unremarkable but cleverly accompanied with sweet relishes. Our main courses were even better. Organic chicken with cucumber salsa was grilled and stacked high on the plate, a monstrous meal but somehow it disappeared. Seared tuna and rocket salad was marginally less original but still delicious, and perfectly cooked with a red centre.
By the time our chocolate pot pudding arrived we both realised we had eaten far too much and although it was aromatic and wonderfully rich we were compelled by embarrassment and possibly the wine to lob it out of the window, showering the Shoreditch pavements with scalding brown fudge. Creamy cappuccinos finished off an entirely satisfying meal.
Gastropubs are ubiquitous in London at the moment and every boozer with a kitchen is having a go, but this elevated dining room is a class act. The Princess has an original menu and the skills to pull off some fairly daring dishes. The only thing reminiscent of pub grub about our delicious meal was the portions. Massive, they were.
Images of, and near, The Princess of Shoreditch
The Princess of Shoreditch The Princess of Shoreditch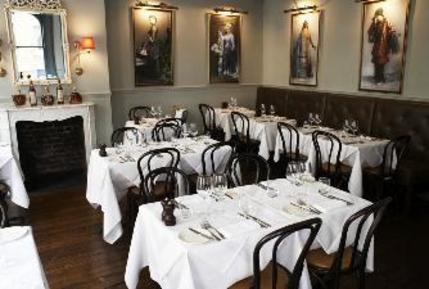 Customer Service - Speak to a London hotel expert

Email
Email a London Expert
Send email

Live Chat
Advisors available now
Chat to a London Expert
Live chat
Speak to a
London Hotel Expert

Telephone
From UK:
020 7437 4370
Free callback service
If you prefer, we can call you back for free:
Call me back

Top rated hotels near The Princess of Shoreditch
Previous customers have given the highest customer satisfaction score to these four hotels near to The Princess of Shoreditch:
9 minutes walk away
Double room from £131
5 minutes walk away
Double room from £134
2 minutes walk away
Double room from £53
4 minutes walk away
Double room from £155
Nearest hotels to The Princess of Shoreditch
There are 7 recommended places to stay within a 15 minutes walk from The Princess of Shoreditch:
Holiday Inn Express London-City ( 2 minutes)
Courthouse Hotel Shoreditch ( 4 minutes)
Ace Hotel London Shoreditch ( 5 minutes)
South Place Hotel ( 9 minutes)
196 Bishopsgate Serviced Apartments ( 11 minutes)
Thistle City Barbican Hotel ( 11 minutes)
Apex London Wall Hotel ( 13 minutes)

Connect live to hotels' reservation system

Lowest rates available anywhere

Bookings made instantly with the hotel

Receive hotel's own reservation number

Pay the hotel directly

Our service is 100% FREE

LondonTown.com exclusive free extras

Hotel experts with 15 years experience

More about our customer service team