Hotels near Peppa Pig's Treasure Hunt
Cafe Royal Hotel
London
>
Hotels
>
Luxury Chain Hotel
from £229

35% off
68 Regent Street, W1B 4DY |

2 minutes walk from Peppa Pig's Treasure Hunt




Café Royal is a 160-bedroom 5-star luxury hotel on Regent Street, in London's city centre overlooking Piccadilly Circus. The hotel has conference facilities, a cafe, bar

More
Every Hotel Piccadilly
London
>
Hotels
>
Mid-Range Chain Hotel
from £103

28% off
Coventry Street, W1D 6BZ |

2 minutes walk from Peppa Pig's Treasure Hunt




Located right next to Leicester Square, in the heart of London's West End, the Every Hotel Piccadilly is the perfect hotel for those wanting to enjoy

More
Hotels near Peppa Pig's Treasure Hunt
Peppa Pig's Treasure Hunt

Oink! Oink! It's Peppa Pig, and she's going on a treasure hunt at
The Criterion Theatre
this Christmas. Based on the Bafta Award-winning TV series,
Peppa Pig's Treasure Hunt
returns to the stage with an adventure to remember as Peppa, George and Danny Dog hop on Grandad Dog's Boat to find their treasure. There is much use of song and dance to keep young children interested and the show is a sensible length at just one hour and twenty minutes with an interval.
Images of, and near, Peppa Pig's Treasure Hunt
Peppa Pig's Treasure Hunt Peppa Pig's Treasure Hunt - Photogrpahs by Pete Jones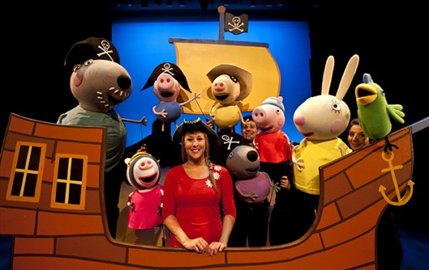 Customer Service - Speak to a London hotel expert

Telephone
From United States:
011 44 207 437 4370
8am to 11pm
Toll free: 1-800-986-9403
Free callback service:
We can call you back

Email
Email a London Expert
Send email

Live Chat
Advisors available now
Chat to a London Expert
Live chat
Speak to a
London Hotel Expert

Telephone
From UK:
020 7437 4370
Free callback service
If you prefer, we can call you back for free:
Call me back

Top rated hotels near Peppa Pig's Treasure Hunt
Previous customers have given the highest customer satisfaction score to these five hotels near to Peppa Pig's Treasure Hunt :
7 minutes walk away
Double room from £413
7 minutes walk away
Double room from £279
9 minutes walk away
Double room from £335
2 minutes walk away
Double room from £144
5 minutes walk away
Double room from £113
Nearest hotels to Peppa Pig's Treasure Hunt
There are 20 recommended places to stay within a 15 minutes walk from Peppa Pig's Treasure Hunt :
Cafe Royal Hotel ( 2 minutes)
Every Hotel Piccadilly ( 2 minutes)
Thistle Trafalgar Square, The Royal Trafalgar ( 4 minutes)
Radisson Blu Edwardian Hampshire Hotel ( 4 minutes)
Cavendish London Hotel ( 5 minutes)
St Martins Lane, A Morgans Original ( 6 minutes)
The Courthouse Hotel ( 7 minutes)
Club Quarters Trafalgar Square ( 7 minutes)
The Grand at Trafalgar Square ( 7 minutes)
The Trafalgar Hotel London ( 7 minutes)
No 5 Maddox Street London ( 7 minutes)
St. James's Hotel & Club London ( 8 minutes)
The Stafford London Hotel ( 8 minutes)
Radisson Blu Edwardian Mercer Street ( 8 minutes)
Amba Hotel Charing Cross ( 8 minutes)
Holiday Inn London Mayfair ( 9 minutes)
The May Fair Hotel London ( 9 minutes)
The London EDITION ( 9 minutes)
Corinthia Hotel London ( 9 minutes)
Sanderson, A Morgans Hotel ( 10 minutes)

Connect live to hotels' reservation system

Lowest rates available anywhere

Bookings made instantly with the hotel

Receive hotel's own reservation number

Pay the hotel directly

Our service is 100% FREE

LondonTown.com exclusive free extras

Hotel experts with 15 years experience

More about our customer service team