Hotels near Sketch - The Parlour and Bar
FIND YOUR PERFECT LONDON HOTEL
Hotels near
Sketch - The Parlour and Bar
All central London hotels
Room 1
Okay
Maximum 4 to a room.
+ Add another room
Most popular hotels near Sketch - The Parlour and Bar
No 5 Maddox Street London
London
>
Hotels
>
Apartment
from £167

39% off
5 Maddox Street, W1S 2QD |

1 minute walk from Sketch - The Parlour and Bar




Edgy, urban and very hip, these distinguished apartments are a shopper's seventh heaven. Located near Regents Street, Maddox Street is a stylish sanctuary of tranquility offering

More
The Courthouse Hotel
London
>
Hotels
>
Luxury Chain Hotel
from £141

28% off
19 - 21 Great Marlborough Street, W1F 7HL |

3 minutes walk from Sketch - The Parlour and Bar




A swimming pool, spa, fitness room and a range of meeting rooms have been sympathetically accommodated within this historic 5-star Soho hotel. A Grade II listed

More
Find other hotels near Sketch - The Parlour and Bar
Hotels near Sketch - The Parlour and Bar
Sketch - The Parlour and Bar

Dazzling and design are the main buzz words here. Laid out over two floors, on the former site of the Royal Institute of British Architects, the Sketch complex comprises two critically acclaimed restaurants, an art gallery, un salon de thé and two spectacular bars. This place is so fashionable, in fact, that even the toilets – a collection of bright white, egg-shaped, space-age pods - are a talking point. Don't be fooled by the decidedly ordinary-looking, pale 18th century townhouse building that meets you on approach, inside this is a pure sci-fi, space age fantasia. The Parlour, a restaurant and bar reserved for Sketch members, club nights and private events at night, is decked out in pinks, oranges and dogtooth prints and 60 different fabrics and crushed velvet. The Parlour at Sketch is a stylish venue offering a range of menus within chic surroundings. Choose from breakfast, lunch, afternoon tea and an all-day menu of comfort food including a beef and foie gras burger and club sandwiches. The Parlour at Sketch also features a patisserie counter and offers a selection of speciality teas, coffees and signature cocktails. Sofas are a mix of Victorian, Louis XV and French day beds. Meanwhile, the East Bar, with its white leather walls is the ideal spot from which to sip a superbly dry (if extortionately priced) Martini chosen from a drinks menu designed in the style of a tabloid newspaper. From the drinks menus to the handwritten napkins the devil is very much in the detail here at Sketch. The lighting is similarly spectacular – in the bathrooms, front and backlit crystals and glass shapes produce a stunning shimmer, while gentle washes of colour bathe the cylindrical pods and sweeping staircases dotted elsewhere. Prices are sky high but you'll spend so much time gaping open-mouthed at the décor that your sipping speed will slow down considerably.
Best for:
Space age and sci-fi, minimalism and Martinis, high-fashion, fantasy and flamboyance.
Did you know?
Sketch's resident chef, Pierre Gagnaire's French restaurant was ranked 3rd in the world in 2006 and 2007.
Images of, and near, Sketch - The Parlour and Bar
Sketch - The Parlour and Bar Sketch - The Parlour and Bar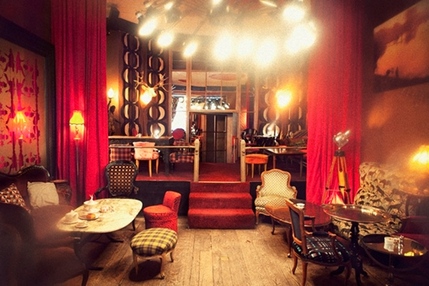 Customer Service - Speak to a London hotel expert

Email
Email a London Expert
Send email

Live Chat
Advisors available now
Chat to a London Expert
Live chat
Speak to a
London Hotel Expert

Telephone
From UK:
020 7437 4370
Free callback service
If you prefer, we can call you back for free:
Call me back

Top rated hotels near Sketch - The Parlour and Bar
Previous customers have given the highest customer satisfaction score to these five hotels near to Sketch - The Parlour and Bar:
6 minutes walk away
Double room from £2246
1 minutes walk away
Double room from £244
8 minutes walk away
Double room from £229
9 minutes walk away
Double room from £83
9 minutes walk away
Double room from £232
Nearest hotels to Sketch - The Parlour and Bar
There are 20 recommended places to stay within a 15 minutes walk from Sketch - The Parlour and Bar:
No 5 Maddox Street London ( 1 minutes)
The Courthouse Hotel ( 3 minutes)
Holiday Inn London Mayfair ( 5 minutes)
Radisson Blu Edwardian Berkshire Hotel ( 6 minutes)
Cafe Royal Hotel ( 6 minutes)
Le Meridien Piccadilly ( 6 minutes)
Langham Hotel London ( 7 minutes)
The Nadler Soho Hotel ( 7 minutes)
Sanderson, A Morgans Hotel ( 7 minutes)
The May Fair Hotel London ( 7 minutes)
Cavendish London Hotel ( 7 minutes)
Chesterfield Mayfair Hotel ( 8 minutes)
Holiday Inn Oxford Circus ( 8 minutes)
Millennium Hotel London Mayfair ( 8 minutes)
Grange Langham Court Hotel ( 9 minutes)
Washington Mayfair Hotel ( 9 minutes)
The Beaumont Hotel ( 9 minutes)
St. James's Hotel & Club London ( 9 minutes)
Every Hotel Piccadilly ( 9 minutes)
Mandeville Hotel London ( 9 minutes)

Connect live to hotels' reservation system

Lowest rates available anywhere

Bookings made instantly with the hotel

Receive hotel's own reservation number

Pay the hotel directly

Our service is 100% FREE

LondonTown.com exclusive free extras

Hotel experts with 15 years experience

More about our customer service team