Hotels near Leonardo Da Vinci: Painter At The Court Of Milan
Hotels near
Leonardo Da Vinci: Painter At The Court Of Milan
All central London hotels
Check-in
Check-out
Guests
1 ADULT
2 ADULTS
1 ADULT, 1 CHILD (2-12 Years)
2 ADULTS, 1 CHILD (2-12 Years)
2 ADULTS, 2 CHILDREN (2-12 Years)
3 ADULTS
4 ADULTS
OTHER CONFIGURATION:

+ another room

Radisson Blu Edwardian Hampshire Hotel
London
>
Hotels
>
Luxury Chain Hotel
from £121

23% off
Leicester Square, WC2H 7LH |

2 minutes walk from Leonardo Da Vinci: Painter At The Court Of Milan




Overlooking Leicester Square - the setting for London's regular film premieres - the Radisson Blu Edwardian Hampshire has glamorous, exclusive décor to match its high-profile setting:

More
Hotels near Leonardo Da Vinci: Painter At The Court Of Milan
Leonardo Da Vinci: Painter At The Court Of Milan

The
National Gallery
gives visitors a rare chance to see a comprehensive collection of Leonardo da Vinci's paintings in
Leonardo Da Vinci: Painter at the Court of Milan
. "We are never likely to see so many of Leonardo's paintings bought together in our lifetimes," writes Adrian Searle in The Guardian. Of the twenty of so paintings that Leonardo produced - which are "in varying states of incompletion, over-restoration and decay" (The Guardian) - nine are on display in this significant National Gallery exhibition, which puts his years in Milan under the spotlight. Works from this period include a trio of portraits that were to revolutionalise the genre - 'The Portrait of a Musician', 'Belle Ferronniere' and his most prized portrait, 'The Lady with an Ermine', depicting Il Moro's mistress Cecilia Gallerani. Also on display are two versions of the Virgin of the Rocks - one, a 1485 altarpiece from the Louvre, faces the other, taken from the National Gallery's own collection. More than 50 drawings are exhibited alongside the paintings including 33 sketches and studies from the Royal Collection, and all the surviving drawings connected to the 'Last Supper'. While Leonardo's 1492-8 Last Supper mural, his most famous painting of the 1490s, cannot be moved from the walls of the Convent of Santa Maria delle Grazie near Milan onto which it was painted, his pupil Giampietrino's 1520 scale copy of the work is as close as we'll get and that too is displayed in this must-see exhibition.
Images of, and near, Leonardo Da Vinci: Painter At The Court Of Milan
Leonardo Da Vinci: Painter At The Court Of Milan Leonardo Da Vinci: Painter At The Court Of Milan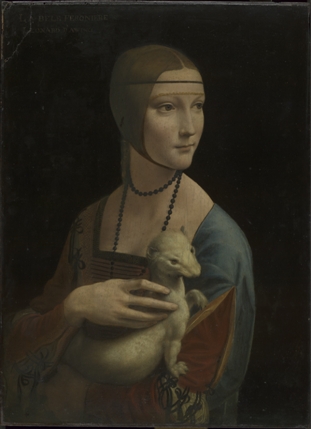 Customer Service - Speak to a London hotel expert

Telephone
From United States:
011 44 207 437 4370
8am to 11pm
Toll free: 1-800-986-9403
Free callback service:
We can call you back

Email
Email a London Expert
Send email

Live Chat
Advisors available now
Chat to a London Expert
Live chat
Speak to a
London Hotel Expert

Telephone
From UK:
020 7437 4370
Free callback service
If you prefer, we can call you back for free:
Call me back

Top rated hotels near Leonardo Da Vinci: Painter At The Court Of Milan
Previous customers have given the highest customer satisfaction score to these five hotels near to Leonardo Da Vinci: Painter At The Court Of Milan:
7 minutes walk away
Double room from £917
4 minutes walk away
Double room from £750
4 minutes walk away
Double room from £140
3 minutes walk away
Double room from £239
2 minutes walk away
Double room from £529
Nearest hotels to Leonardo Da Vinci: Painter At The Court Of Milan
There are 20 recommended places to stay within a 15 minutes walk from Leonardo Da Vinci: Painter At The Court Of Milan:
Thistle Trafalgar Square, The Royal Trafalgar ( 2 minutes)
Radisson Blu Edwardian Hampshire Hotel ( 2 minutes)
St Martins Lane, A Morgans Original ( 2 minutes)
The Grand at Trafalgar Square ( 3 minutes)
The Trafalgar Hotel London ( 3 minutes)
Amba Hotel Charing Cross ( 3 minutes)
Club Quarters Trafalgar Square ( 3 minutes)
Citadines Trafalgar Square Apart-Hotel ( 3 minutes)
Every Hotel Piccadilly ( 4 minutes)
Corinthia Hotel London ( 4 minutes)
The Royal Horseguards - A Guoman Hotel ( 6 minutes)
Strand Palace Hotel London ( 6 minutes)
Radisson Blu Edwardian Mercer Street ( 7 minutes)
Cafe Royal Hotel ( 7 minutes)
Le Meridien Piccadilly ( 7 minutes)
The Waldorf Hilton Hotel London ( 8 minutes)
ME London ( 9 minutes)
Cavendish London Hotel ( 9 minutes)
Kingsway Hall Hotel London ( 10 minutes)
The Bloomsbury Hotel London ( 11 minutes)

Connect live to hotels' reservation system

Lowest rates available anywhere

Bookings made instantly with the hotel

Receive hotel's own reservation number

Pay the hotel directly

Our service is 100% FREE

LondonTown.com exclusive free extras

Hotel experts with 15 years experience

More about our customer service team