Hotels near British Library Conference Centre
Hotels near
British Library Conference Centre
All central London hotels
Check-in
Check-out
Guests
1 ADULT
2 ADULTS
1 ADULT, 1 CHILD (2-12 Years)
2 ADULTS, 1 CHILD (2-12 Years)
2 ADULTS, 2 CHILDREN (2-12 Years)
3 ADULTS
4 ADULTS
OTHER CONFIGURATION:

+ another room

Great Northern Hotel
London
>
Hotels
>
Luxury Chain Hotel
from £106

39% off
King's Cross St Pancras Station, N1C 4TB |

3 minutes walk from British Library Conference Centre




Originally designed by Lewis Cubitt and opened on 17th May 1854, The Great Northern Hotel in King's Cross, one of the first examples of the great

More
Hilton London Euston Hotel
London
>
Hotels
>
Mid-Range Chain Hotel
from £91

27% off
17-18 Upper Woburn Place, WC1H 0HT |

5 minutes walk from British Library Conference Centre




The grand Victorian building that houses this hotel is surely one of the most impressive edifices in the Hilton chain. The location of this hotel in

More
Hotels near British Library Conference Centre
British Library Conference Centre

As the national library of the United Kingdom the British Library is renowned for its world class collection of books but its Conference Centre is something of a hidden gem. Opened in 1998, the state of the art British Library Conference Centre has its own private entrance from the piazza and offers a permanent space for conferences, meetings, product launches, lectures, private screenings and media events. The auditorium can accommodate up to 255 delegates, with facilities for simultaneous translation, film, sound and video presentation. In addition, there are five comfortable and individually designed meeting rooms allowing for 8-70 delegates. All rooms - named after Chaucer, Bronte, Dickens and Eliot - have natural daylight, electronic blackout blinds, climate control and sound proofing. The foyer and bar area with their seating nooks are an ideal location to break out and enjoy less formal discussions. Refreshments are provided by the library's team of in-house chefs.
Images of, and near, British Library Conference Centre
British Library Conference Centre British Library Conference Centre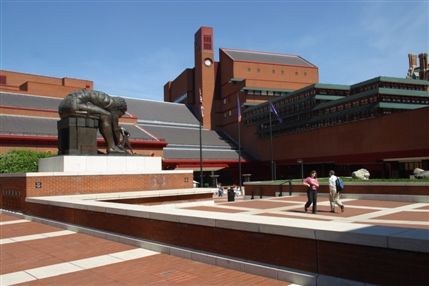 Customer Service - Speak to a London hotel expert

Telephone
From United States:
011 44 207 437 4370
8am to 11pm
Toll free: 1-800-986-9403
Free callback service:
We can call you back

Email
Email a London Expert
Send email

Live Chat
Advisors available now
Chat to a London Expert
Live chat
Speak to a
London Hotel Expert

Telephone
From UK:
020 7437 4370
Free callback service
If you prefer, we can call you back for free:
Call me back

Top rated hotels near British Library Conference Centre
Previous customers have given the highest customer satisfaction score to these five hotels near to British Library Conference Centre:
9 minutes walk away
Double room from £127
8 minutes walk away
Double room from £180
9 minutes walk away
Double room from £166
2 minutes walk away
Double room from £282
5 minutes walk away
Double room from £91
Nearest hotels to British Library Conference Centre
There are 15 recommended places to stay within a 15 minutes walk from British Library Conference Centre:
Great Northern Hotel ( 3 minutes)
Hilton London Euston Hotel ( 5 minutes)
Tune Hotel Kings Cross, London ( 7 minutes)
Holiday Inn London Bloomsbury ( 8 minutes)
Thistle Euston Hotel London ( 9 minutes)
TheWesley Hotel London ( 9 minutes)
Hotel Russell London ( 10 minutes)
Regency House Hotel ( 12 minutes)
Holiday Inn London Kings Cross - Bloomsbury ( 12 minutes)
Radisson Blu Edwardian Grafton Hotel ( 12 minutes)
Bloomsbury Park Hotel London ( 13 minutes)
The Academy Hotel London ( 13 minutes)
The Montague on the Gardens ( 13 minutes)
Grange White Hall Hotel London ( 13 minutes)
Grange Blooms Hotel London ( 13 minutes)

Connect live to hotels' reservation system

Lowest rates available anywhere

Bookings made instantly with the hotel

Receive hotel's own reservation number

Pay the hotel directly

Our service is 100% FREE

LondonTown.com exclusive free extras

Hotel experts with 15 years experience

More about our customer service team