Hotels near Mine to Medals
FIND YOUR PERFECT LONDON HOTEL
Hotels near
Mine to Medals
All central London hotels
Room 1
Okay
Maximum 4 to a room.
+ Add another room
Most popular hotels near Mine to Medals
Grange Blooms Hotel London
London
>
Hotels
>
Mid-Range Chain Hotel
from £50

42% off
7 Montague Street, WC1B 5BP |

2 minutes walk from Mine to Medals




An impressive looking 18th century townhouse, the Grange Blooms Hotel is located in the heart of London's trendy Bloomsbury area, adjacent to the British Museum. Just

More
Find other hotels near Mine to Medals
Hotels near Mine to Medals
Mine to Medals

For some this
British Museum
exhibition may be as close as they'll get to an Olympic gold medal - despite their best endeavours.
Mine to Medals: the London 2012 Olympic and Paralympic Games medals
shows the discs designed by British artist David Watkins that will be earned, through sweat and years of hard training, by the winning atheletes in the 2012 Olympic Games. This display, which is part of the Cultural Olympiad, tells the story of the designs of the medals - from design to mine to their production at the Royal Mint headquarters in Llantrisant, South Wales. Medals have been awarded to winning athletes since the first modern Olympics in 1896, and these modern medals continue that tradition combining traditional elements - the front of the medal always depicts the Greek Goddess of Victory, Nike - with emblems that are specific to London (a ribbon represents the River Thames) while a dished background suggests the bowl shape of a modern stadium.
Images of, and near, Mine to Medals
Mine to Medals Mine to Medals - London 2012 Olympic medals, designed by British artist David Watkins. © LOCOG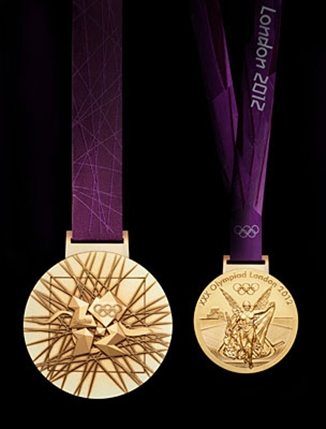 Customer Service - Speak to a London hotel expert

Email
Email a London Expert
Send email

Live Chat
Advisors available now
Chat to a London Expert
Live chat
Speak to a
London Hotel Expert

Telephone
From UK:
020 7437 4370
Free callback service
If you prefer, we can call you back for free:
Call me back

Top rated hotels near Mine to Medals
Previous customers have given the highest customer satisfaction score to these five hotels near to Mine to Medals:
2 minutes walk away
Double room from £99
7 minutes walk away
Double room from £106
2 minutes walk away
Double room from £98
2 minutes walk away
Double room from £390
8 minutes walk away
Double room from £109
Nearest hotels to Mine to Medals
There are 20 recommended places to stay within a 15 minutes walk from Mine to Medals:
Grange White Hall Hotel London ( 2 minutes)
Grange Blooms Hotel London ( 2 minutes)
Radisson Blu Edwardian Kenilworth Hotel ( 2 minutes)
The Montague on the Gardens ( 2 minutes)
Thistle Holborn, The Kingsley ( 2 minutes)
Grange Portland Hotel London ( 2 minutes)
Radisson Blu Edwardian Bloomsbury Street Hotel ( 2 minutes)
Grange Clarendon Hotel ( 2 minutes)
The Beauchamp Hotel London ( 2 minutes)
The Buckingham London ( 2 minutes)
Bloomsbury Park Hotel London ( 4 minutes)
DoubleTree by Hilton London - West End ( 4 minutes)
Grange Holborn Hotel London ( 4 minutes)
The Academy Hotel London ( 4 minutes)
My Bloomsbury London ( 5 minutes)
Regency House Hotel ( 6 minutes)
Radisson Blu Edwardian Mercer Street ( 6 minutes)
Holiday Inn London Bloomsbury ( 7 minutes)
The Rathbone Hotel London ( 7 minutes)
Rosewood London ( 7 minutes)

Connect live to hotels' reservation system

Lowest rates available anywhere

Bookings made instantly with the hotel

Receive hotel's own reservation number

Pay the hotel directly

Our service is 100% FREE

LondonTown.com exclusive free extras

Hotel experts with 15 years experience

More about our customer service team