Hotels near Twelfth Night
FIND YOUR PERFECT LONDON HOTEL
Hotels near
Twelfth Night
All central London hotels
Room 1
Okay
Maximum 4 to a room.
+ Add another room
Most popular hotels near Twelfth Night
CitizenM London Bankside
London
>
Hotels
>
Mid-Range Chain Hotel
from £74

40% off
20 Lavington S, SE1 0NZ |

4 minutes walk from Twelfth Night




From comfy king sized beds and an international plug system to free movies and complimentary WiFi, the citizen London Bankside hotel promises to offer its guests

More
Hilton London Bankside
London
>
Hotels
>
Mid-Range Chain Hotel
from £113

24% off
2-8 Great Suffolk Street, SE1 0UG |

6 minutes walk from Twelfth Night




The Hilton London Bankside is a purpose built hotel with a four-storey glass atrium, 292 rooms and fitness centre, complete with swimming pool, and an opulent

More
Find other hotels near Twelfth Night
Hotels near Twelfth Night
Twelfth Night

The Globe
welcomes back its first artistic director, Mark Rylance, whose stunning performance in Jerusalem has been bowling over audiences in London and New York. The actor returns to the Southwark theatre for the first time since he left in 2005, starring in an all-male award-winning production of
Twelfth Night
by Original Practices. Rylance plays Olivia in the production, reviving a role he took on ten years ago when the show premiered in 2002. With a celebrated cast in some of Shakespeare's most loved roles you can expect comedy, cruelty and plenty of cross-dressing in this bittersweet production about two teams battling within the house of Olivia. On one hand, the lovesick lord Orsino plots against the heart of indifferent Olivia. On the other hand, a vexed alliance of servants scheme against her steward Malvolio. With traditional Shakespearian costume, music and dance this production at the Globe promises to transport you right back to 1601.
Images of, and near, Twelfth Night
Twelfth Night Twelfth Night - Mark Rylance as Olivia in Twelfth Night at Shakespeare's Globe, 2002. Photo by John Tramper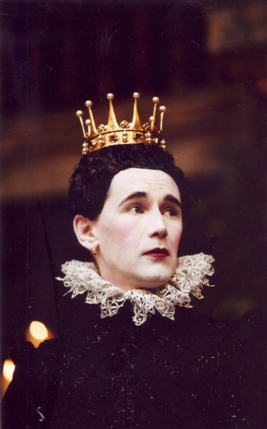 Customer Service - Speak to a London hotel expert

Email
Email a London Expert
Send email

Live Chat
Advisors available now
Chat to a London Expert
Live chat
Speak to a
London Hotel Expert

Telephone
From UK:
020 7437 4370
Free callback service
If you prefer, we can call you back for free:
Call me back

Top rated hotels near Twelfth Night
Previous customers have given the highest customer satisfaction score to these five hotels near to Twelfth Night:
9 minutes walk away
Double room from £0
6 minutes walk away
Double room from £134
9 minutes walk away
Double room from £184
7 minutes walk away
Double room from £129
9 minutes walk away
Double room from £88
Nearest hotels to Twelfth Night
There are 11 recommended places to stay within a 15 minutes walk from Twelfth Night:
CitizenM London Bankside ( 4 minutes)
Holiday Inn Express London Southwark ( 5 minutes)
Hilton London Bankside ( 6 minutes)
Grange St Paul's Hotel London ( 7 minutes)
Crowne Plaza London The City ( 9 minutes)
Mondrian London ( 9 minutes)
Club Quarters St Pauls Hotel ( 9 minutes)
Club Quarters Gracechurch ( 11 minutes)
Apex Temple Court Hotel ( 12 minutes)
The Bridge Hotel London ( 12 minutes)
Apex London Wall Hotel ( 13 minutes)

Connect live to hotels' reservation system

Lowest rates available anywhere

Bookings made instantly with the hotel

Receive hotel's own reservation number

Pay the hotel directly

Our service is 100% FREE

LondonTown.com exclusive free extras

Hotel experts with 15 years experience

More about our customer service team