Hotels near Portobello Film Festival
FIND YOUR PERFECT LONDON HOTEL
Hotels near
Portobello Film Festival
All central London hotels
Room 1
Okay
Maximum 4 to a room.
+ Add another room
Most popular hotels near Portobello Film Festival
The Abbey Court Notting Hill
London
>
Hotels
>
Mid-Range Chain Hotel
from £68

26% off
20 Pembridge Gardens, W2 4DU |

13 minutes walk from Portobello Film Festival




Wrap yourself in Victorian elegance at this exclusive hotel. Located in peaceful residential street close to Notting Hill gate, the shops and nightlife of the West-end

More
Find other hotels near Portobello Film Festival
Hotels near Portobello Film Festival
Portobello Film Festival

Created in 1996 as a reaction to the state of the British Film industry, the
Portobello Film Festival
was set up with the aim of providing a platform for exciting new film-makers and to this day gives daring and groundbreaking directors a chance to get their films seen. The programme features around 500 new films split into numerous categories, including art, music movies, documentary and world film, screening films from different countries across the globe. The festival hasn't always had an easy ride and has even found itself without a cinema screen at times but screening in parks, theatres, clubs and bars have all added to the diverse nature of the event. With annual premieres of shorts, documentaries and animations, plus lots of talks and workshops with top film directors, the Portobello Film Festival is an exciting event in any film fanatic's diary. This year, in the wake of the Grenfell Tower tragedy, the programme will also present movies by local people, offering a platform for local poets, rappers, DJs and musicians.
Images of, and near, Portobello Film Festival
Portobello Film Festival Portobello Film Festival - Golden Trellick awards modelled Trellick Tower by street artist Zeus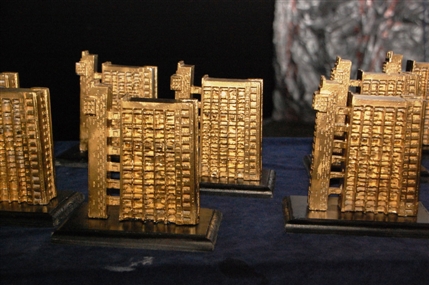 Customer Service - Speak to a London hotel expert

Email
Email a London Expert
Send email

Live Chat
Advisors available now
Chat to a London Expert
Live chat
Speak to a
London Hotel Expert

Telephone
From UK:
020 7437 4370
Free callback service
If you prefer, we can call you back for free:
Call me back

Nearest hotels to Portobello Film Festival
There are 1 recommended places to stay within a 15 minutes walk from Portobello Film Festival:
The Abbey Court Notting Hill ( 13 minutes)

Connect live to hotels' reservation system

Lowest rates available anywhere

Bookings made instantly with the hotel

Receive hotel's own reservation number

Pay the hotel directly

Our service is 100% FREE

LondonTown.com exclusive free extras

Hotel experts with 15 years experience

More about our customer service team