Hotels near Love Letters Straight From Your Heart
London Marriott Hotel County Hall
London
>
Hotels
>
Luxury Chain Hotel
from £157

40% off
Westminster Bridge Road, SE1 7PB |

4 minutes walk from Love Letters Straight From Your Heart




A simply unbeatable location for anyone who loves to keep themselves busy. London's County Hall is at the heart of the South Bank, surrounded by theatres,

More
Hotels near Love Letters Straight From Your Heart
Love Letters Straight From Your Heart

With Valentine's Day round the corner, love is at the fore front of many Londoners' minds.
Love Letters Straight from Your Heart
gives visitors the chance to express their emotions to those who are closest to us. Presented by performance group Uninvited Guests, there will be speeches and song dedications making it a happy occasion to remember lost loves, mums, dads and absent friends. Visitors can send in a request for a piece of music and for who they wish to dedicate it to.
Images of, and near, Love Letters Straight From Your Heart
Love Letters Straight From Your Heart Love Letters Straight From Your Heart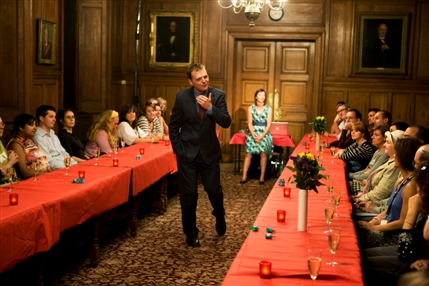 Customer Service - Speak to a London hotel expert

Telephone
From United States:
011 44 207 437 4370
8am to 11pm
Toll free: 1-800-986-9403
Free callback service:
We can call you back

Email
Email a London Expert
Send email

Live Chat
Advisors available now
Chat to a London Expert
Live chat
Speak to a
London Hotel Expert

Telephone
From UK:
020 7437 4370
Free callback service
If you prefer, we can call you back for free:
Call me back

Top rated hotels near Love Letters Straight From Your Heart
Previous customers have given the highest customer satisfaction score to these five hotels near to Love Letters Straight From Your Heart:
9 minutes walk away
Double room from £239
6 minutes walk away
Double room from £335
9 minutes walk away
Double room from £169
6 minutes walk away
Double room from £126
7 minutes walk away
Double room from £258
Nearest hotels to Love Letters Straight From Your Heart
There are 20 recommended places to stay within a 15 minutes walk from Love Letters Straight From Your Heart:
London Marriott Hotel County Hall ( 4 minutes)
Park Plaza County Hall Hotel London ( 6 minutes)
The Royal Horseguards - A Guoman Hotel ( 6 minutes)
Corinthia Hotel London ( 6 minutes)
The Savoy London ( 7 minutes)
Park Plaza Westminster Bridge Hotel London ( 7 minutes)
Amba Hotel Charing Cross ( 7 minutes)
Strand Palace Hotel London ( 8 minutes)
ME London ( 8 minutes)
One Aldwych ( 9 minutes)
The Trafalgar Hotel London ( 9 minutes)
The Grand at Trafalgar Square ( 9 minutes)
Club Quarters Trafalgar Square ( 9 minutes)
Mondrian London ( 9 minutes)
The Waldorf Hilton Hotel London ( 9 minutes)
Hampton by Hilton London Waterloo ( 10 minutes)
ibis London Blackfriars ( 10 minutes)
St Martins Lane, A Morgans Original ( 10 minutes)
Novotel London Blackfriars ( 10 minutes)
H10 London Waterloo Hotel ( 12 minutes)

Connect live to hotels' reservation system

Lowest rates available anywhere

Bookings made instantly with the hotel

Receive hotel's own reservation number

Pay the hotel directly

Our service is 100% FREE

LondonTown.com exclusive free extras

Hotel experts with 15 years experience

More about our customer service team