Hotels near The Breakfast Club, Angel
FIND YOUR PERFECT LONDON HOTEL
Hotels near
The Breakfast Club, Angel
All central London hotels
Room 1
Okay
Maximum 4 to a room.
+ Add another room
Most popular hotels near The Breakfast Club, Angel
Thistle City Barbican Hotel
London
>
Hotels
>
Budget Chain Hotel
from £43

25% off
Central Street, EC1V 8DS |

12 minutes walk from The Breakfast Club, Angel




Near to the City, and convenient for the The Barbican arts centre and Moorfields Eye Hospital, this hotel is modern, clean and functional. Equipped with its

More
Find other hotels near The Breakfast Club, Angel
Hotels near The Breakfast Club, Angel
The Breakfast Club, Angel

Following the success of their Soho cafe, opened in 2005, The Breakfast Club started this second pitstop in 2007 on the delightful Camden Passage in Islington. Serving a selection of eats to start your day - it then continues the good work till dusk. The breakfasts are unexpectedly not the standard fry-up; you can choose from regular options you might have at home, and some more unusual treats like their chorizo hash browns and heuvos al benny. Aside from breakfast goods, the café also serves tempting burgers, salads, sandwiches and mouth-watering comfort food. This branch comes with a license too and bespoke cocktails are served in the evenings, when the café is transformed into a cosy candlelit den. Inside the sunny yellow cafe is decorated in a welcoming blend of old and new - with some bold primary colours, aged chests, battered signs decorating the walls and some optimistic sunflowers on each table. Outdoor seating is available Monday to Friday and on Sundays, creating the perfect chance to jump the queue and enjoy an alfresco breakfast. With free Wifi provided and an occasional antiques market next door, it's a fine spot to refuel.
Images of, and near, The Breakfast Club, Angel
The Breakfast Club, Angel The Breakfast Club, Angel - Breakfast Club On Camden Passage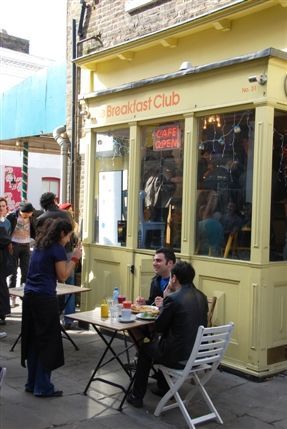 Customer Service - Speak to a London hotel expert

Email
Email a London Expert
Send email

Live Chat
Advisors available now
Chat to a London Expert
Live chat
Speak to a
London Hotel Expert

Telephone
From UK:
020 7437 4370
Free callback service
If you prefer, we can call you back for free:
Call me back

Top rated hotels near The Breakfast Club, Angel
Previous customers have given the highest customer satisfaction score to these two hotels near to The Breakfast Club, Angel:
2 minutes walk away
Double room from £99
6 minutes walk away
Double room from £79
Nearest hotels to The Breakfast Club, Angel
There are 3 recommended places to stay within a 15 minutes walk from The Breakfast Club, Angel:
Hilton London Islington Hotel ( 2 minutes)
DoubleTree by Hilton London - Islington ( 6 minutes)
Thistle City Barbican Hotel ( 12 minutes)

Connect live to hotels' reservation system

Lowest rates available anywhere

Bookings made instantly with the hotel

Receive hotel's own reservation number

Pay the hotel directly

Our service is 100% FREE

LondonTown.com exclusive free extras

Hotel experts with 15 years experience

More about our customer service team