Hotels near Picasso Prints: The Vollard Suite
Hotels near
Picasso Prints: The Vollard Suite
All central London hotels
Check-in
Check-out
Guests
1 ADULT
2 ADULTS
1 ADULT, 1 CHILD (2-12 Years)
2 ADULTS, 1 CHILD (2-12 Years)
2 ADULTS, 2 CHILDREN (2-12 Years)
3 ADULTS
4 ADULTS
OTHER CONFIGURATION:

+ another room

Grange Blooms Hotel London
London
>
Hotels
>
Mid-Range Chain Hotel
from £69

42% off
7 Montague Street, WC1B 5BP |

2 minutes walk from Picasso Prints: The Vollard Suite




An impressive looking 18th century townhouse, the Grange Blooms Hotel is located in the heart of London's trendy Bloomsbury area, adjacent to the British Museum. Just

More
Hotels near Picasso Prints: The Vollard Suite
Picasso Prints: The Vollard Suite

The
British Museum
has recently been fortunate enough to acquire the complete Vollard Suite - a set of 100 etchings produced by Picasso between 1930 and 1937. With
Picasso
arguably being the 20th century's most important artist, this generosity by the Hamish Parker Charitable Trust has put the British Museum in a unique position, offering the ability to display the pieces alongside classical sculptures that Picasso was inspired by. This will be the only complete
Vollard Suite
held by a public museum in the UK and it will join only a handful of museums in the world which hold a complete set. It will therefore be the first time a complete Vollard Suite has been shown in Britain in the past 50 years. The etchings represent a number of themes including Picasso's fascination with the Minotaur. Further influences seen in the artist's paintings include Rembrandt etchings and Goya prints.
Images of, and near, Picasso Prints: The Vollard Suite
Picasso Prints: The Vollard Suite Picasso Prints: The Vollard Suite - Blind minotaur being led by a little girl (resembling Marie-Therese) with a pigeon in a starry night; plate 97 of the Vollard Suite (VS 97). 3-7 December and 31 December 1934.Copyright of Succession Picasso/DACS 2011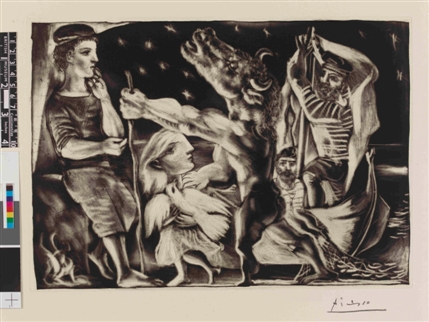 Customer Service - Speak to a London hotel expert

Telephone
From United States:
011 44 207 437 4370
8am to 11pm
Toll free: 1-800-986-9403
Free callback service:
We can call you back

Email
Email a London Expert
Send email

Live Chat
Advisors available now
Chat to a London Expert
Live chat
Speak to a
London Hotel Expert

Telephone
From UK:
020 7437 4370
Free callback service
If you prefer, we can call you back for free:
Call me back

Top rated hotels near Picasso Prints: The Vollard Suite
Previous customers have given the highest customer satisfaction score to these five hotels near to Picasso Prints: The Vollard Suite:
2 minutes walk away
Double room from £149
2 minutes walk away
Double room from £99
2 minutes walk away
Double room from £305
2 minutes walk away
Double room from £76
2 minutes walk away
Double room from £109
Nearest hotels to Picasso Prints: The Vollard Suite
There are 20 recommended places to stay within a 15 minutes walk from Picasso Prints: The Vollard Suite:
Grange White Hall Hotel London ( 2 minutes)
Grange Blooms Hotel London ( 2 minutes)
Radisson Blu Edwardian Kenilworth Hotel ( 2 minutes)
The Montague on the Gardens ( 2 minutes)
Thistle Holborn, The Kingsley ( 2 minutes)
Radisson Blu Edwardian Bloomsbury Street Hotel ( 2 minutes)
The Beauchamp Hotel London ( 2 minutes)
The Portland Hotel London ( 2 minutes)
The Clarendon Hotel London ( 2 minutes)
The Buckingham London ( 2 minutes)
The Bloomsbury Hotel London ( 3 minutes)
Bloomsbury Park Hotel London ( 4 minutes)
Grange Holborn Hotel London ( 4 minutes)
DoubleTree by Hilton London - West End ( 4 minutes)
The Academy Hotel London ( 4 minutes)
myhotel Bloomsbury London ( 5 minutes)
Hotel Russell London ( 5 minutes)
Radisson Blu Edwardian Mercer Street ( 6 minutes)
Holiday Inn London Bloomsbury ( 7 minutes)
Kingsway Hall Hotel London ( 7 minutes)

Connect live to hotels' reservation system

Lowest rates available anywhere

Bookings made instantly with the hotel

Receive hotel's own reservation number

Pay the hotel directly

Our service is 100% FREE

LondonTown.com exclusive free extras

Hotel experts with 15 years experience

More about our customer service team