Hotels near Africa House: London Olympics
Comfort Inn Hyde Park
London
>
Hotels
>
Budget Chain Hotel
from £67

33% off
73 Queensborough Terrace, W2 3SU |

3 minutes walk from Africa House: London Olympics




Located on a peaceful, tree-lined street in easy walking distance of Hyde Park, Kensington Gardens and the Serpentine boating lake, the Comfort Inn Hyde Park is

More
Grand Royale London Hyde Park
London
>
Hotels
>
Budget Chain Hotel
from £70

26% off
1 Inverness Terrace, Hyde Park, W2 3JP |

3 minutes walk from Africa House: London Olympics




The Grand Royale London Hyde Park offers a luxurious accommodation experience in Bayswater, close to Hyde Park. This 4 star property has a classically British theme

More
Thistle Kensington Gardens
London
>
Hotels
>
Mid-Range Chain Hotel
from £76

28% off
104 Bayswater Road, W2 3HL |

4 minutes walk from Africa House: London Olympics




Overlooking the gardens surrounding Kensington Palace, this modern hotel is only a few minutes walk from Queensway and not much further from Bayswater Tube station making

More
Hotels near Africa House: London Olympics
Africa House: London Olympics

One of London's most loved parks,
Kensington Gardens
, will become the setting for the first ever
Africa House
during the London Olympics this summer. 53 African countries (and members of the Association of National Olympic Committees of Africa ANOCA) will join forces for the Olympic period to showcase the best in African culture and sport. This marks a special occasion as African athletes have never had the chance to participate with an official hospitality House to call their own before. Set in the grounds of Kensington Palace, once the official residence of Princess Diana, Kensington Gardens is a suitably grand location for such a landmark occasion.
Africa House
will be located next to the Albert Memorial and will be open and free to the public. The site has capacity for 2,000 visitors and will entertain with performances, restaurants and exhibitions, alongside the chance to meet the medal-winning sportsmen and women who will head to Africa House after each day's games, to meet and greet fans, and celebrate their victories.
Images of, and near, Africa House: London Olympics
Africa House: London Olympics Africa House: London Olympics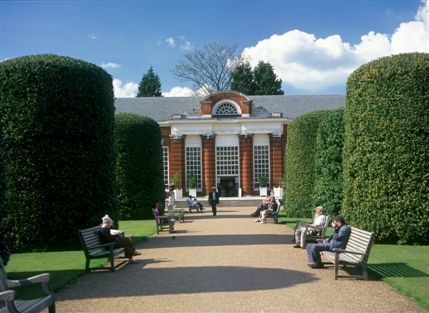 Customer Service - Speak to a London hotel expert

Telephone
From United States:
011 44 207 437 4370
8am to 11pm
Toll free: 1-800-986-9403
Free callback service:
We can call you back

Email
Email a London Expert
Send email

Live Chat
Advisors available now
Chat to a London Expert
Live chat
Speak to a
London Hotel Expert

Telephone
From UK:
020 7437 4370
Free callback service
If you prefer, we can call you back for free:
Call me back

Top rated hotels near Africa House: London Olympics
Previous customers have given the highest customer satisfaction score to these five hotels near to Africa House: London Olympics:
8 minutes walk away
Double room from £163
9 minutes walk away
Double room from £954
7 minutes walk away
Double room from £54
4 minutes walk away
Double room from £118
7 minutes walk away
Double room from £173
Nearest hotels to Africa House: London Olympics
There are 20 recommended places to stay within a 15 minutes walk from Africa House: London Olympics:
Comfort Inn Hyde Park ( 3 minutes)
Grand Royale London Hyde Park ( 3 minutes)
Thistle Kensington Gardens ( 4 minutes)
Hilton Hyde Park Hotel London ( 4 minutes)
Queens Park Hotel London ( 5 minutes)
Central Park Hotel London ( 5 minutes)
Lancaster Gate Hotel London ( 5 minutes)
Thistle Hyde Park Hotel London ( 5 minutes)
Berjaya Eden Park London Hotel ( 6 minutes)
Shaftesbury Hyde Park International Hotel London ( 6 minutes)
DoubleTree by Hilton London Hyde Park ( 6 minutes)
Leisure Inn Hotel London ( 7 minutes)
Blakemore Hyde Park Hotel ( 7 minutes)
Hyde Park Premier London Paddington ( 7 minutes)
Best Western Mornington Hotel ( 7 minutes)
Corus Hyde Park Hotel London ( 7 minutes)
Royal Garden Hotel London ( 8 minutes)
The Caesar Hotel London ( 8 minutes)
Cleveland Hotel London ( 8 minutes)
Oxford Hotel London ( 8 minutes)

Connect live to hotels' reservation system

Lowest rates available anywhere

Bookings made instantly with the hotel

Receive hotel's own reservation number

Pay the hotel directly

Our service is 100% FREE

LondonTown.com exclusive free extras

Hotel experts with 15 years experience

More about our customer service team