Hotels near BT London Live Trafalgar Square
The Trafalgar Hotel London
London
>
Hotels
>
Luxury Chain Hotel
Deluxe Double Rooms:

39% off

from £167
2 Spring Gardens, SW1A 2TS |

1 minute walk from BT London Live Trafalgar Square




Almost in the shadow of Nelson's Column, and with the Palaces of Whitehall looming behind it, this hotel is at the heart of the Capital.

More
Club Quarters Trafalgar Square
London
>
Hotels
>
Mid-Range Chain Hotel
Petite Doubles:

24% off

from £129
8 Northumberland Avenue, WC2N 5BY |

1 minute walk from BT London Live Trafalgar Square




A fantastic nineteenth century exterior hides a thoroughly modern hotel, with clean, minimalist design in the rooms. The biggest draw is the location, in the very

More
The Grand at Trafalgar Square
London
>
Hotels
>
Mid-Range Chain Hotel
Petite Doubles:

30% off

from £119
8 Northumberland Avenue, WC2N 5BY |

1 minute walk from BT London Live Trafalgar Square




A visually stunning building, The Grand at Trafalgar Square is a quintessential London hotel, located within the restored landmark Northumberland House - formerly the Victoria Hotel.

More
Location map of BT London Live Trafalgar Square
Hotels near BT London Live Trafalgar Square

Following the London Live events in
Hyde Park
and
Victoria Park
during the Olympics,
BT London Live
relocates to
Trafalgar Square
for the Paralympic Games for 12 days from 29th August, with sporting coverage from Channel 4 televised on a 60 metre square screen from 11am to 11.30pm daily. As well as screening all the Paralympic action from the Olympic Park, they will be showcasing live music with a concert planned each evening. Artists include The Beat, Geno Washington and The Ram Jam Band, The Fabulous Lounge Swingers, Space Ships Are Cool, London Calling and Reasons To Be Cheerful. Disabled and non disabled visitors alike can try out a range of Paralympic sports including Sitting Volleyball, Wheelchair Basketball and Wheelchair Tennis on the Have-a-Go Sports Court. Entry for
BT London Live Trafalgar Square
is available on a walk in, first-come, first-served basis, subject to capacity. There are full details on the
official website
.
Images of, and near, BT London Live Trafalgar Square
BT London Live Trafalgar Square BT London Live Trafalgar Square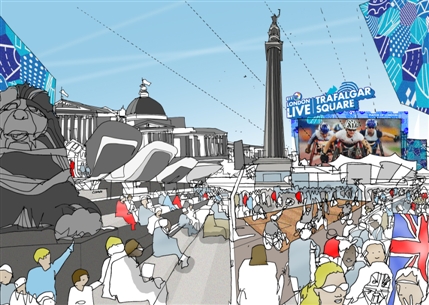 Customer Service - Speak to a London hotel expert

Telephone
From United States:
011 44 207 437 4370
8am to 11pm
Toll free:
1-800-986-9403
Free callback service:
We can call you back

Email
Email a London Expert
Send email

Live Chat
Advisors available now
Chat to a London Expert
Live chat
Speak to a
London Hotel Expert

Live Chat
Advisors available now
Chat directly to a London Expert:
More Contact Options
Top rated hotels near BT London Live Trafalgar Square
Previous customers have given the highest customer satisfaction score to these five hotels near to BT London Live Trafalgar Square:
4 minutes walk away
Double room from £2325
1 minutes walk away
Double room from £119
7 minutes walk away
Double room from £145
8 minutes walk away
Double room from £479
4 minutes walk away
Double room from £110
Nearest hotels to BT London Live Trafalgar Square
There are 20 recommended places to stay within a 15 minutes walk from BT London Live Trafalgar Square:
The Trafalgar Hotel London ( 1 minutes)
Club Quarters Trafalgar Square ( 1 minutes)
The Grand at Trafalgar Square ( 1 minutes)
Thistle Trafalgar Square, The Royal Trafalgar ( 2 minutes)
Radisson Blu Edwardian Leicester Square Hotel ( 2 minutes)
Haymarket Hotel ( 3 minutes)
Charing Cross - A Guoman Hotel ( 3 minutes)
Radisson Blu Edwardian Hampshire Hotel ( 3 minutes)
Sofitel London St James Hotel ( 3 minutes)
Corinthia Hotel London ( 4 minutes)
St Martins Lane, A Morgans Original ( 4 minutes)
Thistle Piccadilly Hotel London ( 4 minutes)
The Royal Horseguards - A Guoman Hotel ( 5 minutes)
W London Leicester Square ( 5 minutes)
The Savoy A Fairmont Managed Hotel ( 7 minutes)
Cafe Royal Hotel ( 7 minutes)
Strand Palace Hotel London ( 7 minutes)
Le Meridien Piccadilly ( 7 minutes)
The Groucho Club ( 7 minutes)
Cavendish London Hotel ( 8 minutes)

Connect live to hotels' reservation system

Lowest rates available anywhere

Bookings made instantly with the hotel

Receive hotel's own reservation number

Pay the hotel directly

Our service is 100% FREE

LondonTown.com exclusive free extras

Hotel experts with 15 years experience

More about our customer service team