Hotels near Blisters The Directors Cut
MC Motors
, 28 Millers Avenue, Hackney, London E8 2DS
Hotels near
Blisters The Directors Cut
All central London hotels
Check-in
Check-out
Guests
1 ADULT
2 ADULTS
1 ADULT, 1 CHILD (2-12 Years)
2 ADULTS, 1 CHILD (2-12 Years)
2 ADULTS, 2 CHILDREN (2-12 Years)
3 ADULTS
4 ADULTS
OTHER CONFIGURATION:

+ another room

Town Hall Hotel & Apartments
London
>
Hotels
>
Apartment
from £112

37% off
Patriot Square, E2 9NF |

33 minutes walk from Blisters The Directors Cut




The Town Hall building in Bethnal Green has been beautifully restored creating a unique designer hotel which fuses old and new. With a mix of bedrooms,

More
Hilton London Islington Hotel
London
>
Hotels
>
Mid-Range Chain Hotel
from £83

42% off
53 Upper Street, N1 0UY |

33 minutes walk from Blisters The Directors Cut




The Business Design Centre next door is the obvious attraction for many of the guests at this smart, efficient Hilton Hotel, but Islington's excellent restaurants and

More
Hotels near Blisters The Directors Cut
Blisters The Directors Cut

After a year off
Blisters The Directors Cut
, the big end of summer poster show by Print Club London, is back for one weekend only in 2012, on Friday 31st August (Private View) and Saturday 1st September. Bringing together a mixture of 40 established and emerging illustrators, designers and street artists, the show, hosted once again in the
MC Motors
venue next door to Print Club's Studio, offers screenprints for sale for £40. This year all the posters are derived from movies including The Royal Tenenbaums, Star Wars, The Outsiders, Metropolis, Planet Of The Apes and Phsycho. Among the 40 artists who have been inspired by their favourite film are Jess Wilson, James Joyce, Serge Seidlitz, Kate Moross and Ryan Chapman whose 'submarine' design was used for a wooden iPhone case.
Images of, and near, Blisters The Directors Cut
Blisters The Directors Cut Blisters The Directors Cut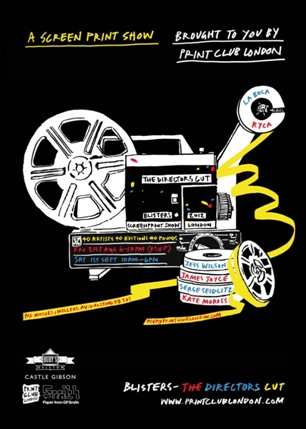 Customer Service - Speak to a London hotel expert

Telephone
From United States:
011 44 207 437 4370
8am to 11pm
Toll free: 1-800-986-9403
Free callback service:
We can call you back

Email
Email a London Expert
Send email

Live Chat
Advisors available now
Chat to a London Expert
Live chat
Speak to a
London Hotel Expert

Telephone
From UK:
020 7437 4370
Free callback service
If you prefer, we can call you back for free:
Call me back


Connect live to hotels' reservation system

Lowest rates available anywhere

Bookings made instantly with the hotel

Receive hotel's own reservation number

Pay the hotel directly

Our service is 100% FREE

LondonTown.com exclusive free extras

Hotel experts with 15 years experience

More about our customer service team