Hotels near Thai Square - Covent Garden
FIND YOUR PERFECT LONDON HOTEL
Hotels near
Thai Square - Covent Garden
All central London hotels
Room 1
Okay
Maximum 4 to a room.
+ Add another room
Most popular hotels near Thai Square - Covent Garden
The Bloomsbury Hotel London
London
>
Hotels
>
Mid-Range Chain Hotel
from £132

35% off
16-22 Great Russell Street, WC1B 3NN |

4 minutes walk from Thai Square - Covent Garden




A smart, fashionably furnished yet traditional hotel in the centre of town with first-class service, The Bloomsbury Hotel is great value for money among the capital's

More
Find other hotels near Thai Square - Covent Garden
Hotels near Thai Square - Covent Garden
Thai Square - Covent Garden

Thai Square is a consistently reliable chain of Thai restaurants where the food tastes exactly how Thai food should: hot and sharp, as well as rich and complex. The menu includes choices of Thai dim sum featuring bite sized pieces of chicken satay, spring rolls, prawn toasts and prawn balls in a chilli-soy sauce. Try a tom yam soup between starter and main course to cleanse the palate, before moving on to a main of spiced fish in a spice crust or beef Penang curry. This Covent Garden branch, located on Shaftesbury Avenue and close to Neal Street, is convenient for a pre or post-theatre meal. The restaurant itself is light and airy, with Thai decorations and Buddhist references everywhere. The bar area opens into a vaulted, naturally lit dining room which leads to a small courtyard. Even though it's a busy place, you never feel overcrowded. The reasonable prices make dining here affordable for everyone. A good place to try real Thai food in a warm and friendly atmosphere.
Images of, and near, Thai Square - Covent Garden
Thai Square - Covent Garden Thai Square - Covent Garden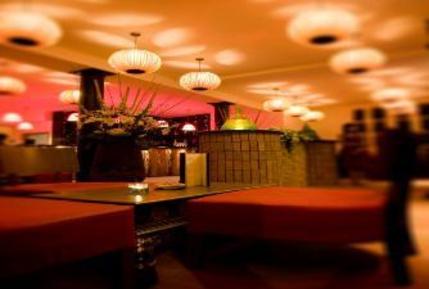 Customer Service - Speak to a London hotel expert

Email
Email a London Expert
Send email

Live Chat
Advisors available now
Chat to a London Expert
Live chat
Speak to a
London Hotel Expert

Telephone
From UK:
020 7437 4370
Free callback service
If you prefer, we can call you back for free:
Call me back

Top rated hotels near Thai Square - Covent Garden
Previous customers have given the highest customer satisfaction score to these five hotels near to Thai Square - Covent Garden:
7 minutes walk away
Double room from £79
7 minutes walk away
Double room from £117
9 minutes walk away
Double room from £138
7 minutes walk away
Double room from £650
8 minutes walk away
Double room from £164
Nearest hotels to Thai Square - Covent Garden
There are 20 recommended places to stay within a 15 minutes walk from Thai Square - Covent Garden:
Radisson Blu Edwardian Mercer Street ( 1 minutes)
Radisson Blu Edwardian Bloomsbury Street Hotel ( 3 minutes)
The Bloomsbury Hotel London ( 4 minutes)
Radisson Blu Edwardian Kenilworth Hotel ( 4 minutes)
Thistle Holborn, The Kingsley ( 5 minutes)
Kingsway Hall Hotel London ( 5 minutes)
St Martins Lane, A Morgans Original ( 6 minutes)
The Nadler Soho Hotel ( 6 minutes)
Radisson Blu Edwardian Hampshire Hotel ( 7 minutes)
My Bloomsbury London ( 7 minutes)
The Waldorf Hilton Hotel London ( 7 minutes)
The Buckingham London ( 7 minutes)
Grange White Hall Hotel London ( 7 minutes)
Strand Palace Hotel London ( 7 minutes)
Grange Blooms Hotel London ( 7 minutes)
Every Hotel Piccadilly ( 7 minutes)
Club Quarters Lincoln's Inn Fields ( 7 minutes)
Grange Portland Hotel London ( 7 minutes)
The Montague on the Gardens ( 7 minutes)
The Clarendon Hotel London ( 7 minutes)

Connect live to hotels' reservation system

Lowest rates available anywhere

Bookings made instantly with the hotel

Receive hotel's own reservation number

Pay the hotel directly

Our service is 100% FREE

LondonTown.com exclusive free extras

Hotel experts with 15 years experience

More about our customer service team