Hotels near Playing Cards 1: SPADES
Roundhouse
, Chalk Farm Road, Camden, London NW1 8EH
FIND YOUR PERFECT LONDON HOTEL
Hotels near
Playing Cards 1: SPADES
All central London hotels
Room 1
Okay
Maximum 4 to a room.
+ Add another room

Most popular hotels near Playing Cards 1: SPADES
The Haverstock Hotel
London
>
Hotels
>
Budget Chain Hotel
from £63

32% off
154 Haverstock Hill, NW3 2AY |

11 minutes walk from Playing Cards 1: SPADES




Formerly a public house known as The Haverstock Arms, The Haverstock Hotel in Hampstead is a newly restored boutique property. Situated between Belsize Park and Camden

More
Find other hotels near Playing Cards 1: SPADES
Hotels near Playing Cards 1: SPADES
Playing Cards 1: SPADES

A deck of cards and the games played with them can represent rules, skills, symbols, mythologies, signs and characters. Using this concept, international director and theatrical master Robert Lepage has created a quartet of plays that focus on the meaning behind the cards; each play is shaped around one suit and what that suit represents.
Playing Cards 1: Spades
will be the first in the series and, exploring the theme of war, will juxtapose two desert cities at the time when the United States invaded Iraq. Based in Las Vegas, a caricature of the Western World and its values, it delves into a world of illusions, escape and private battles with a heavy dose of sex, drugs, violence and politics. Bets are on as to how the story will play out in Sin City.
Images of, and near, Playing Cards 1: SPADES
Playing Cards 1: SPADES Playing Cards 1: SPADES - Playing Cards - Spades 022 Erick Labbe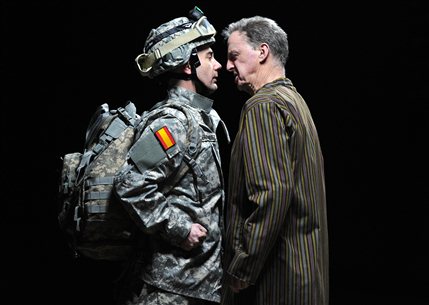 Customer Service - Speak to a London hotel expert

Telephone
From United States:
011 44 207 437 4370
8am to 11pm
Free callback service:
We can call you back

Email
Email a London Expert
Send email

Live Chat
Advisors available now
Chat to a London Expert
Live chat
Speak to a
London Hotel Expert

Telephone
From UK:
020 7437 4370
Free callback service
If you prefer, we can call you back for free:
Call me back

Top rated hotels near Playing Cards 1: SPADES
Previous customers have given the highest customer satisfaction score to this one hotel:
5 minutes walk away
Double room from £182
Nearest hotels to Playing Cards 1: SPADES
There are 2 recommended places to stay within a 15 minutes walk from Playing Cards 1: SPADES:
Holiday Inn Camden Lock Hotel ( 5 minutes)
The Haverstock Hotel ( 11 minutes)

Connect live to hotels' reservation system

Lowest rates available anywhere

Bookings made instantly with the hotel

Receive hotel's own reservation number

Pay the hotel directly

Our service is 100% FREE

LondonTown.com exclusive free extras

Hotel experts with 15 years experience

More about our customer service team