Hotels near Gaiety Is The Most Outstanding Feature Of The Soviet Union: Art From Russia
Sloane Square Hotel London
London
>
Hotels
>
Mid-Range Chain Hotel
from £70

37% off
7-12 Sloane Square, SW1W 8EG |

3 minutes walk from Gaiety Is The Most Outstanding Feature Of The Soviet Union: Art From Russia




Located right on Sloane Square, where the old Royal Court Hotel used to be, Sloane Square Hotel is a welcoming and well decorated reincarnation. All the

More
Draycott Hotel London
London
>
Hotels
>
Luxury Chain Hotel
from £140

31% off
26 Cadogan Gardens, SW3 2RP |

3 minutes walk from Gaiety Is The Most Outstanding Feature Of The Soviet Union: Art From Russia




Stylish antique d'cor, a peaceful but convenient location, and spacious, airy rooms are all essential to this hotel's appeal. Yet it is the unbeatable service that

More
No.11 Cadogan Gardens
London
>
Hotels
>
Luxury Chain Hotel
from £144

34% off
11 Cadogan Gardens, SW3 2RJ |

4 minutes walk from Gaiety Is The Most Outstanding Feature Of The Soviet Union: Art From Russia




No. 11 London, A Victorian boutique hotel, was built by Lord Chelsea on the cricket ground between Harrods and Buckingham Palace and quickly became a

More
Hotels near Gaiety Is The Most Outstanding Feature Of The Soviet Union: Art From Russia
Gaiety Is The Most Outstanding Feature Of The Soviet Union: Art From Russia

The
Saatchi Gallery
presents a large survey exploring the recent history of Russia, including the crumbling of the Soviet Union and the years of perestroika.
Gaiety is the Most Outstanding Feature of the Soviet Union: Art from Russia
features works by 18 contemporary artists including Janis Avotin, Dasha Fursey, Irina Korina, Roman Savchenko and Sergei Vasiliev who photographed the tattoos of prison inmates in Russia. A second exhibition, 'Breaking the Ice: Moscow Art, 1960-80s', a group exhibition of 'non-conformist art' made during Soviet-era Russia also runs at the gallery from 21st November 2012 to 24th February 2013.
Images of, and near, Gaiety Is The Most Outstanding Feature Of The Soviet Union: Art From Russia
Gaiety Is The Most Outstanding Feature Of The Soviet Union: Art From Russia Gaiety Is The Most Outstanding Feature Of The Soviet Union: Art From Russia - Sergei Vasiliev, Russian Criminal Tattoo Encyclopaedia Print No.4, 2010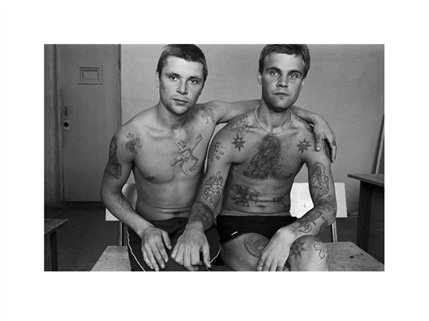 Customer Service - Speak to a London hotel expert

Telephone
From United States:
011 44 207 437 4370
8am to 11pm
Toll free: 1-800-986-9403
Free callback service:
We can call you back

Email
Email a London Expert
Send email

Live Chat
Advisors available now
Chat to a London Expert
Live chat
Speak to a
London Hotel Expert

Telephone
From UK:
020 7437 4370
Free callback service
If you prefer, we can call you back for free:
Call me back

Top rated hotels near Gaiety Is The Most Outstanding Feature Of The Soviet Union: Art From Russia
Previous customers have given the highest customer satisfaction score to these three hotels near to Gaiety Is The Most Outstanding Feature Of The Soviet Union: Art From Russia:
3 minutes walk away
Double room from £169
8 minutes walk away
Double room from £108
4 minutes walk away
Double room from £384
Nearest hotels to Gaiety Is The Most Outstanding Feature Of The Soviet Union: Art From Russia
There are 17 recommended places to stay within a 15 minutes walk from Gaiety Is The Most Outstanding Feature Of The Soviet Union: Art From Russia:
Draycott Hotel London ( 3 minutes)
Sloane Square Hotel London ( 3 minutes)
No.11 Cadogan Gardens ( 4 minutes)
myhotel Chelsea London ( 8 minutes)
Belgraves - A Thompson Hotel ( 9 minutes)
Jumeirah Carlton Tower Hotel ( 11 minutes)
Sydney House Chelsea ( 11 minutes)
Tophams Hotel London ( 11 minutes)
Eccleston Square Hotel London ( 11 minutes)
The Egerton House Hotel London ( 11 minutes)
Beaufort House Apartments ( 12 minutes)
The Rembrandt Hotel London ( 12 minutes)
Jumeirah Lowndes Hotel London ( 12 minutes)
Millennium Hotel London Knightsbridge ( 12 minutes)
Georgian House Hotel London ( 12 minutes)
The Grosvenor Hotel London ( 13 minutes)
The Levin Hotel London ( 13 minutes)

Connect live to hotels' reservation system

Lowest rates available anywhere

Bookings made instantly with the hotel

Receive hotel's own reservation number

Pay the hotel directly

Our service is 100% FREE

LondonTown.com exclusive free extras

Hotel experts with 15 years experience

More about our customer service team